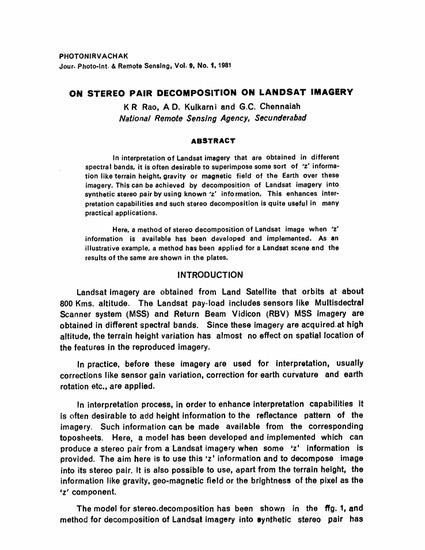 Article
On stereo pair decomposition on landsat imagery
Journal of the Indian Society of Photo-Interpretation and Remote Sensing (1981)
Abstract
In interpretation of Landsat imagery that are obtained in different spectral bands, it is often desirable to superimpose some sort of 'z' information like terrain height, gravity or magnetic field of the Earth over these imagery. This can be achieved by decomposition of Landsat imagery into synthetic stereo pair by using known 'z' information. This enhances interpretation capabilities and such stareo decomposition is quite useful in many practical applications.
Here, a method of stereo decomposition of Landsat image when 'z' information is available has been developed and implemented. As an illustrative example, a method has been applied for a Landsat scene and the results of the same are shown in the plates.
Publication Date
June, 1981
Citation Information
K. R. Rao, Arun D Kulkarni and G. C. Chennaiah. "On stereo pair decomposition on landsat imagery"
Journal of the Indian Society of Photo-Interpretation and Remote Sensing
Vol. 9 Iss. 1 (1981) p. 45 - 48 ISSN: 0255660X
Available at: http://works.bepress.com/arun-kulkarni/41/