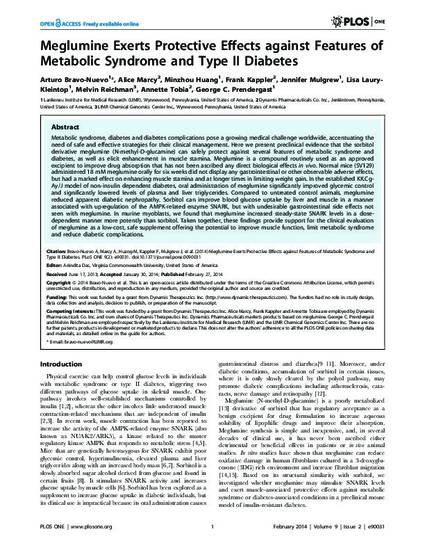 Article
Meglumine Exerts Protective Effects Against Features of Metabolic Syndrome and Type II Diabetes
PLoS One
Publication Date
1-1-2014
Abstract
Metabolic syndrome, diabetes and diabetes complications pose a growing medical challenge worldwide, accentuating the need of safe and effective strategies for their clinical management. Here we present preclinical evidence that the sorbitol derivative meglumine (N-methyl-D-glucamine) can safely protect against several features of metabolic syndrome and diabetes, as well as elicit enhancement in muscle stamina. Meglumine is a compound routinely used as an approved excipient to improve drug absorption that has not been ascribed any direct biological effects in vivo. Normal mice (SV129) administered 18 mM meglumine orally for six weeks did not display any gastrointestinal or other observable adverse effects, but had a marked effect on enhancing muscle stamina and at longer times in limiting weight gain. In the established KK.Cg-Ay/J model of non-insulin dependent diabetes, oral administration of meglumine significantly improved glycemic control and significantly lowered levels of plasma and liver triglycerides. Compared to untreated control animals, meglumine reduced apparent diabetic nephropathy. Sorbitol can improve blood glucose uptake by liver and muscle in a manner associated with upregulation of the AMPK-related enzyme SNARK, but with undesirable gastrointestinal side effects not seen with meglumine. In murine myoblasts, we found that meglumine increased steady-state SNARK levels in a dose-dependent manner more potently than sorbitol. Taken together, these findings provide support for the clinical evaluation of meglumine as a low-cost, safe supplement offering the potential to improve muscle function, limit metabolic syndrome and reduce diabetic complications.
Citation Information
Arturo Bravo Nuevo, Alice Marcy, Minzhou Huang, Frank Kappler, et al.. "Meglumine Exerts Protective Effects Against Features of Metabolic Syndrome and Type II Diabetes"
PLoS One
Vol. 9 Iss. 2 (2014) p. e90031 - e90031
Available at: http://works.bepress.com/arturo-bravo-nuevo/15/