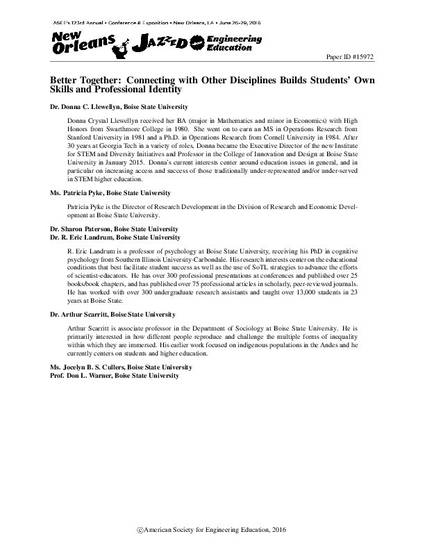 Article
Better Together: Connecting with Other Disciplines Builds Students' Own Skills and Professional Identity
ASEE Annual Conference and Exposition, Conference Proceedings
Document Type
Conference Proceeding
Publication Date
1-1-2016
Abstract
The Summer Research Community (SRC) at Boise State University brings STEM (science, technology, engineering, and mathematics) students together with faculty and other students from social sciences and humanities to form an interdisciplinary summer experience. The SRC was founded with impetus from a National Science Foundation grant to create efficiencies among NSF and other STEM education initiatives and to address critical junctures for undergraduate STEM students and faculty.
Copyright Statement
© (2016), American Society for Engineering Education, Proceedings of ASEE Annual Conference (New Orleans, LA).
Citation Information
Donna C. Llewellyn, Patricia Pyke, Sharon Paterson, R. Eric Landrum, et al.. "Better Together: Connecting with Other Disciplines Builds Students' Own Skills and Professional Identity"
ASEE Annual Conference and Exposition, Conference Proceedings
(2016)
Available at: http://works.bepress.com/arthur_scarritt/17/