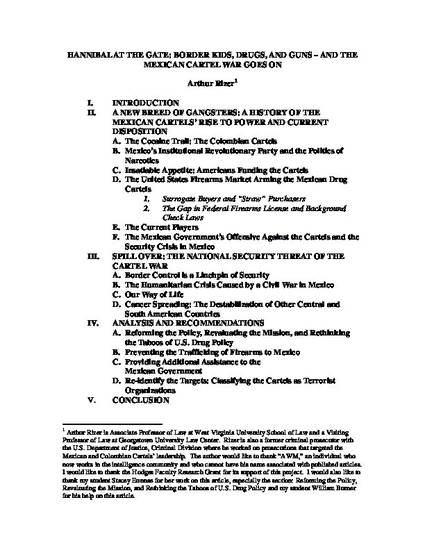 Unpublished Paper
HANNIBAL AT THE GATE: BORDER KIDS, DRUGS, AND GUNS – AND THE MEXICAN CARTEL WAR GOES ON
ExpressO (2014)
Abstract
This article argues that the current cartel war in Mexico represents a clear and present danger to the national security of the United States. Some have estimated Mexico, one of the United States' closest allies, has lost more than 60,000 people in its drug war. That is approximately a murder every hour related to cartel violence. Some experts claim the death toll has been greatly soft-pedaled, with the government reducing violence by simply not reporting it, and that the actual death toll is over 100,000. These numbers do not even include the nearly 40,000 Americans who die each year from illicit drug use and countless others who are killed in our own "war on drugs." In addition, the cartels are now reported to be a prime factor in the recent rash of minors who have been crossing (or attempting to cross) the Mexican border. More ominous is the recent reports suggesting that the cartels are in contact with the Islamic State in Iraq and Syria (ISIS) who could be attempting to use the cartels' human smuggling services to gain entry into the United States. Because Mexico and the United States not only share a common border but also co-exist as international trade partners, the United States should be greatly concerned about the crisis in Mexico. This article seeks to establish that the crisis in Mexico is a current threat to the national security of the United States. For several reasons: the crisis could (1) adversely affect control over the U.S.-Mexico border; (2) cause a humanitarian emergency, including the historic "surge" of unaccompanied children; (3) lead to the collapse of Mexico's economy, negatively impacting the economy of the United States; and (4) the destabilization of other Central American nations. Part I of this article is an overview of the evolution of the Mexican cartels, from their birth as criminal gangs to their partnership with the Colombian drug cartels to their present status as formidable adversaries of the Mexican state. In addition, Part I describes the historical relationship between the Mexican cartels and Mexico's government and the United States' role in creating the cartels. Part II gives an account of Mexico's drug war, beginning with the commencement of President Calderón's offensive against the cartels and its progression to the current national security crisis. Part III argues that the crisis in Mexico is a threat to the national security of the United States. Lastly, Part IV recommends several ways to alleviate this threat to U.S. national security.
Keywords
Drug War,
Mexico's Cartel War,
Drug Policy
Publication Date
August 27, 2014
Citation Information
Arthur Rizer. "HANNIBAL AT THE GATE: BORDER KIDS, DRUGS, AND GUNS – AND THE MEXICAN CARTEL WAR GOES ON"
ExpressO
(2014)
Available at: http://works.bepress.com/arthur_rizer/2/