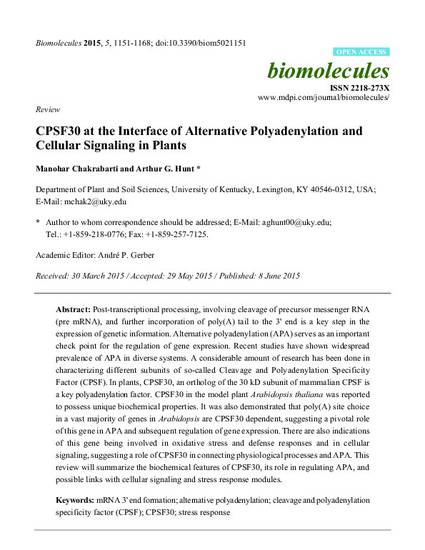 Article
CPSF30 at the Interface of Alternative Polyadenylation and Cellular Signaling in Plants
Biomolecules
Abstract
Post-transcriptional processing, involving cleavage of precursor messenger RNA (pre mRNA), and further incorporation of poly(A) tail to the 3' end is a key step in the expression of genetic information. Alternative polyadenylation (APA) serves as an important check point for the regulation of gene expression. Recent studies have shown widespread prevalence of APA in diverse systems. A considerable amount of research has been done in characterizing different subunits of so-called Cleavage and Polyadenylation Specificity Factor (CPSF). In plants, CPSF30, an ortholog of the 30 kD subunit of mammalian CPSF is a key polyadenylation factor. CPSF30 in the model plant Arabidopsis thaliana was reported to possess unique biochemical properties. It was also demonstrated that poly(A) site choice in a vast majority of genes in Arabidopsis are CPSF30 dependent, suggesting a pivotal role of this gene in APA and subsequent regulation of gene expression. There are also indications of this gene being involved in oxidative stress and defense responses and in cellular signaling, suggesting a role of CPSF30 in connecting physiological processes and APA. This review will summarize the biochemical features of CPSF30, its role in regulating APA, and possible links with cellular signaling and stress response modules.
Publication Date
6-8-2015
Digital Object Identifier (DOI)
http://dx.doi.org/10.3390/biom5021151
Funding Information
We would like to acknowledge the funding support from USDA-ARS, the University of Kentucky, and the National Science Foundation (awards IOS-0817818 and IOS-1353354).
Citation Information
Manohar Chakrabarti and Arthur G. Hunt. "CPSF30 at the Interface of Alternative Polyadenylation and Cellular Signaling in Plants"
Biomolecules
Vol. 5 Iss. 2 (2015) p. 1151 - 1168
Available at: http://works.bepress.com/arthur_hunt/10/