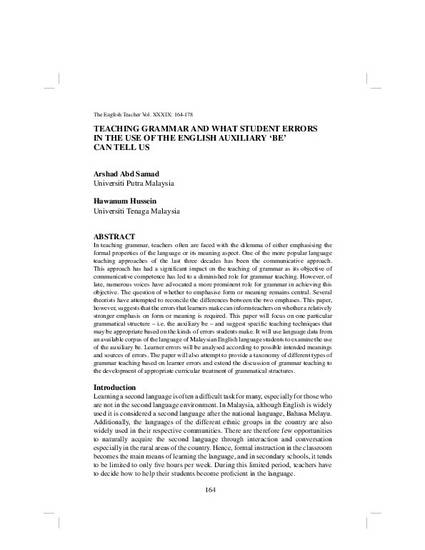 Article
Teaching Grammar and what students errors in the use of the English auxiliary "Be" can tell us
The English Teacher (2010)
Abstract
In teaching grammar, teachers often are faced with the dilemma of either emphasising the formal properties of the language or its meaning aspect. One of the more popular language teaching approaches of the last three decades has been the communicative approach. This approach has had a signifi cant impact on the teaching of grammar as its objective of communicative competence has led to a diminished role for grammar teaching. However, of late, numerous voices have advocated a more prominent role for grammar in achieving this objective. The question of whether to emphasise form or meaning remains central. Several theorists have attempted to reconcile the differences between the two emphases. This paper, however, suggests that the errors that learners make can inform teachers on whether a relatively stronger emphasis on form or meaning is required. This paper will focus on one particular grammatical structure – i.e. the auxiliary be – and suggest specifi c teaching techniques that may be appropriate based on the kinds of errors students make. It will use language data from an available corpus of the language of Malaysian English language students to examine the use of the auxiliary be. Learner errors will be analysed according to possible intended meanings and sources of errors. The paper will also attempt to provide a taxonomy of different types of grammar teaching based on learner errors and extend the discussion of grammar teaching to the development of appropriate curricular treatment of grammatical structures.
Keywords
Errors,
Grammar instruction,
Corpus,
Verb to be
Citation Information
Arshad Abd Samad and Hawanum Hussein. "Teaching Grammar and what students errors in the use of the English auxiliary "Be" can tell us"
The English Teacher
Vol. 39 (2010)
Available at: http://works.bepress.com/arshad_abdsamad/3/