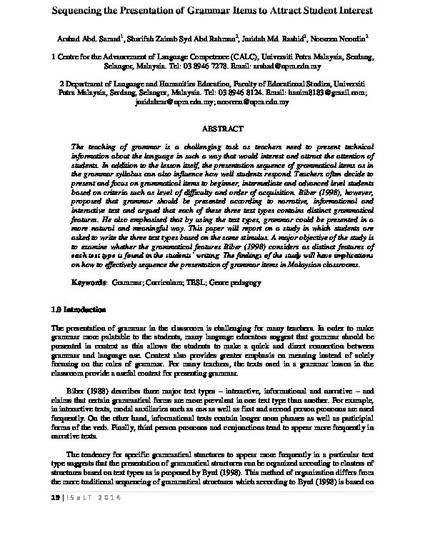 Presentation
Sequencing the Presentation of Grammar Items to Attract Student Interest
International Seminar on Language Teaching (2014)
Abstract
The teaching of grammar is a challenging task as teachers need to present technical information about the language in such a way that would interest and attract the attention of students. In addition to the lesson itself, the presentation sequence of grammatical items as in the grammar syllabus can also influence how well students respond. Teachers often decide to present and focus on grammatical items to beginner, intermediate and advanced level students based on criteria such as level of difficulty and order of acquisition. Biber (1998), however, proposed that grammar should be presented according to narrative, informational and interactive text and argued that each of these three text types contains distinct grammatical features. He also emphasised that by using the text types, grammar could be presented in a more natural and meaningful way. This paper will report on a study in which students are asked to write the three text types based on the same stimulus. A major objective of the study is to examine whether the grammatical features Biber (1998) considers as distinct features of each text type is found in the students' writing. The findings of the study will have implications on how to effectively sequence the presentation of grammar items in Malaysian classrooms.
Keywords
Grammar; Curriculum; TESL; Genre pedagogy
Publication Date
October 13, 2014
Citation Information
Arshad Abd Samad. "Sequencing the Presentation of Grammar Items to Attract Student Interest"
International Seminar on Language Teaching
(2014)
Available at: http://works.bepress.com/arshad_abdsamad/14/