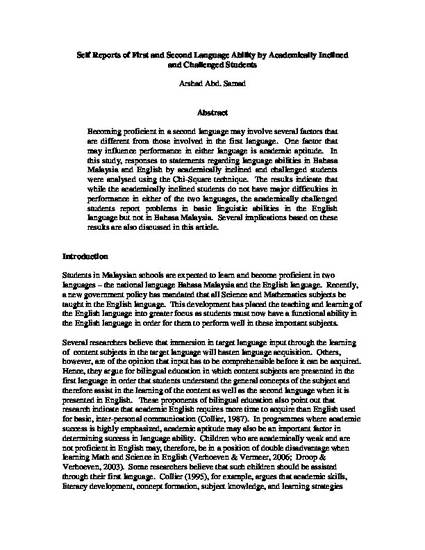 Presentation
Self Reports of First and Second Language Ability by Academically Inclined and Challenged Students
3rd Language and Humanities Education (LaHE) Seminar (2006)
Abstract
Becoming proficient in a second language may involve several factors that are different from those involved in the first language. One factor that may influence performance in either language is academic aptitude. In this study, responses to statements regarding language abilities in Bahasa Malaysia and English by academically inclined and challenged students were analysed using the Chi-Square technique. The results indicate that while the academically inclined students do not have major difficulties in performance in either of the two languages, the academically challenged students report problems in basic linguistic abilities in the English language but not in Bahasa Malaysia. Several implications based on these results are also discussed in this article.
Keywords
Academically challenged students,
self reports,
language ability
Citation Information
Arshad Abd Samad. "Self Reports of First and Second Language Ability by Academically Inclined and Challenged Students"
3rd Language and Humanities Education (LaHE) Seminar
(2006)
Available at: http://works.bepress.com/arshad_abdsamad/10/