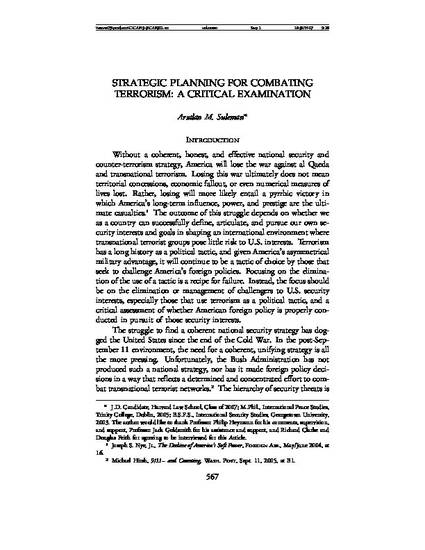 Article
Strategic Planning for Combating Terrorism: A Critical Examination
Cardozo Public Law, Policy & Ethics Journal (2007)
Abstract
This article engages in a thorough assessment of the Bush Administration's main security strategy documents related to combating terrorism, namely the 2002 and 2006 National Security Strategy documents, the 2003 National Strategy for Combating Terrorism, and the 2006 National Military Strategic Plan for the War on Terrorism. First, the article assesses the value and importance of strategy documents and the utility in analyzing them. Second, the strategies are analyzed based on the process by which they were authored, the structural elements of the strategy, and the strategy's content. Third, the article discusses the overall content of counter-terrorism strategy and makes some recommendations for change. The article concludes with suggestions as to how the NSS can be improved from a legal and structural standpoint. Congress should either begin to enforce the provisions of 50 U.S.C. § 404a, or amend it to reflect realistic expectations for national security strategizing.
Keywords
national security,
security strategy,
terrorism,
law reform,
foreign policy
Publication Date
April, 2007
Citation Information
Arsalan Suleman. "Strategic Planning for Combating Terrorism: A Critical Examination"
Cardozo Public Law, Policy & Ethics Journal
Vol. 5 (2007)
Available at: http://works.bepress.com/arsalan_suleman/2/