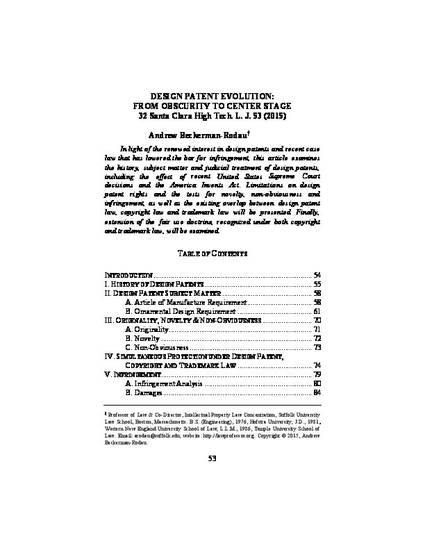 Article
Design Patent Evolution: From Obscurity to Center Stage
Santa Clara High Technology Law Journal (2016)
Abstract
The legal sparring between Apple Computer and Samsung focused the attention of both business people and attorneys on the potential value of U.S. design patents. In one dispute, a jury found that some specific Samsung products had infringed several of Apple's utility and design patents.  The jury verdict included substantial damages based on the fact that the appearance of Samsung's popular Galaxy smartphone infringed one of Apple's U.S. Design Patents. After the jury awarded over one billion dollars as infringement damages numerous academic programs on design patent law quickly appeared. New scholarship directed to design patents was also published which ended a dearth of academic writing on design patents. In light of this renewed interest in design patents coupled with recent case law that strengthened design patents by changing the test for infringement, this article examines the history of design patents, the subject matter protected and the judicial treatment of design patents, including limitations on design patent rights and the tests for novelty, non-obviousness and infringement. The existing overlap between design patent law, copyright law and trademark law as well as the ramifications of such overlap will be presented.
Keywords
Design patents,
patents,
intellectual property,
patent infringement,
industrial design
Publication Date
October, 2016
Citation Information
Andrew Beckerman Rodau. "Design Patent Evolution: From Obscurity to Center Stage"
Santa Clara High Technology Law Journal
Vol. 32 (2016) p. 53 - 92
Available at: http://works.bepress.com/arodau/16/