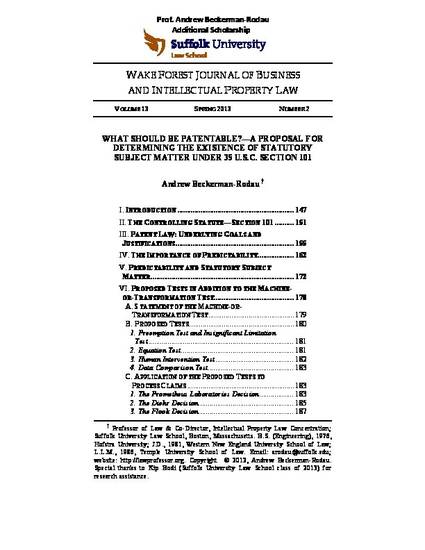 Article
What Should be Patentable? A Proposal for Determining the Existence of Statutory Subject Matter Under 35 U.S.C. sec. 101
Wake Forest Journal of Business and Intellectual Property Law (2013)
Abstract
The question of what type of inventions should be protectable under patent law is a controversial issue that has received significant attention. Recent Supreme Court decisions reject a bright line test in favor of a more-opened ended approach to determining patent eligibility. Unfortunately, this provides limited guidance to lower courts and consequently the issue remains unsettled. Most inventions fit within the statutory requirements defining patent-eligible inventions. This article will examine the scope of patent-eligible subject matter defined by patent law section 101. It will look at judicial interpretation of the statute including exceptions judicially engrafted onto the statute by the Supreme Court. Additionally, the competing policy concerns underlying the statute will be examined. It will be argued that this statue should be analyzed, interpreted and applied consistent with the usual rules generally used by courts. This requires understanding that underlying policies are often inconsistent or competing. Such policies must therefore be balanced in crafting an applicable rule. Any resulting rule will be imperfect because it will potentially be over or under inclusive. Additionally, it will have disproportionate effects on different industries. Nevertheless, the importance of a uniform and predictable rule outweighs these deficiencies. The article will conclude with a set of proposed rules gleaned from Supreme Court decisions that can be used to provide more predictable results with regard to determining if a patent claim covers patent eligible subject matter.
Keywords
patent,
stautory subject matter,
patent-eligible,
patentability,
section 101
Publication Date
Spring 2013
Citation Information
Andrew Beckerman Rodau. "What Should be Patentable? A Proposal for Determining the Existence of Statutory Subject Matter Under 35 U.S.C. sec. 101"
Wake Forest Journal of Business and Intellectual Property Law
Vol. 13 Iss. 2 (2013)
Available at: http://works.bepress.com/arodau/15/