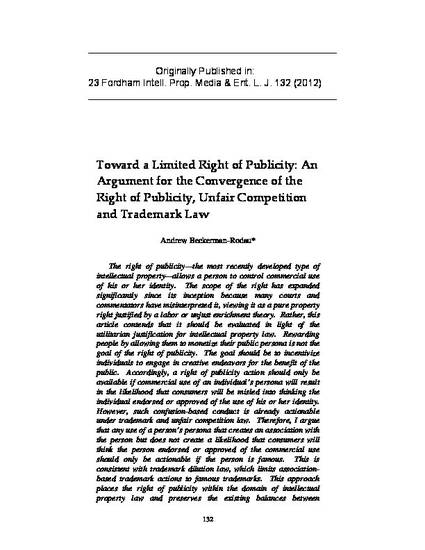 Article
Toward a Limited Right of Publicity: An Argument for the Convergence of the Right of Publicity, Unfair Competition & Trademark Law
Fordham Intellectual Property, Media & Entertainment Law Journal (2012)
Abstract
The right of publicity, the newest type of intellectual property, allows a person to control commercial use of his or her identity. The scope of the right has expanded significantly because many courts and commentators have misinterpreted it by viewing it as a pure property right justified by a labor or unjust enrichment theory. It should be evaluated in light of the utilitarian justification for intellectual property law. Rewarding people by allowing them to monetize their public persona is not the goal. The goal is to incentivize individuals to engage in creative endeavors for the benefit of the public. An action should only be available if commercial use of someone's persona will result in a likelihood that consumers will think the person endorsed or approved of the use of his or her identity. Under this approach such confusion-based conduct is already actionable under trademark and unfair competition law. Any use of a person's persona that creates an association with the person but no likelihood consumers will think the person endorsed or approved of the commercial use should only be actionable if the person is famous. This is consistent with trademark dilution law which limits associational-based trademark actions to famous trademarks.This approach places the right of publicity within the domain of intellectual property law and preserves the existing balances between protecting property rights, preventing free riding, and preserving a robust public domain for speech.
Keywords
right of publicity,
intellectual property,
trademark,
unfair competition
Citation Information
Andrew Beckerman Rodau. "Toward a Limited Right of Publicity: An Argument for the Convergence of the Right of Publicity, Unfair Competition & Trademark Law"
Fordham Intellectual Property, Media & Entertainment Law Journal
Vol. 23 Iss. 1 (2012)
Available at: http://works.bepress.com/arodau/14/