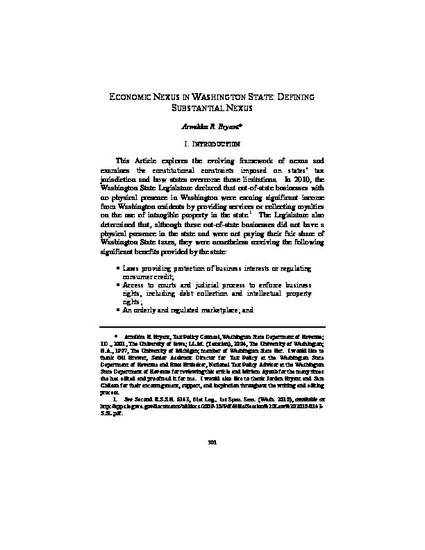 Article
Economic Nexus In Washington State: Defining Substantial Nexus
Quinnipiac Law Review (2012)
Abstract
This article was developed during Washington State's 2010 legislative session. The purpose of the article is to explain the development of the concept of economic nexus that culminated in the state passing, as part of its 2010 budget package, a groundbreaking piece of legislation that fundamentally changed the state's tax structure. I personally worked on drafting the legislation and seeing it through to adoption, on June 1, 2010, as well as drafted the administrative rules that eased the implementation process. Needless to say, I've been quite invested in this project. My personal feelings on the subject aside, this piece explores the constitutional foundations of economic nexus as well as Washington State's legal and fiscal justifications for adopting economic nexus. The article explores the constitutional framework within which economic nexus exists and how it has evolved through the rulings of several key state court decisions. The paper ends by summarizing Washington State's economic nexus legislation and explaining how it came into existence.
Keywords
nexus,
substantial nexus,
economic nexus,
commerce clause,
due process clause,
Quill,
MBNA,
minimum nexus
Publication Date
April, 2012
Citation Information
Armikka R Bryant. "Economic Nexus In Washington State: Defining Substantial Nexus"
Quinnipiac Law Review
Vol. 30 Iss. 2 (2012)
Available at: http://works.bepress.com/armikka_bryant/1/