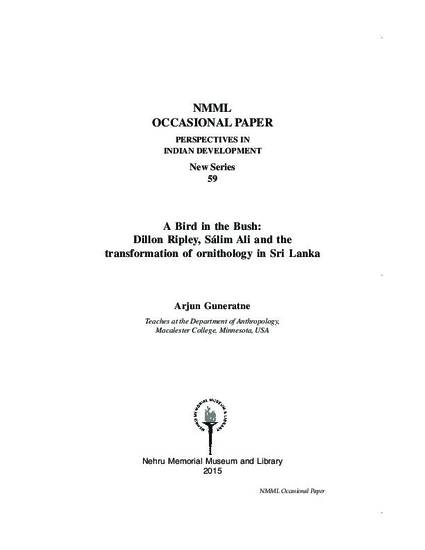 Article
A Bird in the Bush: Dillon Ripley, Sálim Ali and the transformation of ornithology in Sri Lanka
Nehru Memorial Museum and Library OCCASIONAL PAPER PERSPECTIVES IN INDIAN DEVELOPMENT New Series 59 (2015)
Abstract
Revised version of a lecture delivered at the Nehru Memorial Museum and Library, 5 February 2015 on the work of an American,Sydney Dillon Ripley and Sri Lankan, Salim Ali, and their collaboration on ornithology in South Asia.
Citation Information
Guneratne, Arjun, 2015. "A Bird in the Bush: Dillon Ripley, Sálim Ali and the transformation of ornithology in Sri Lanka." Nehru Memorial Museum & Library Occasional Papers, new series 59. New Delhi: NMML.