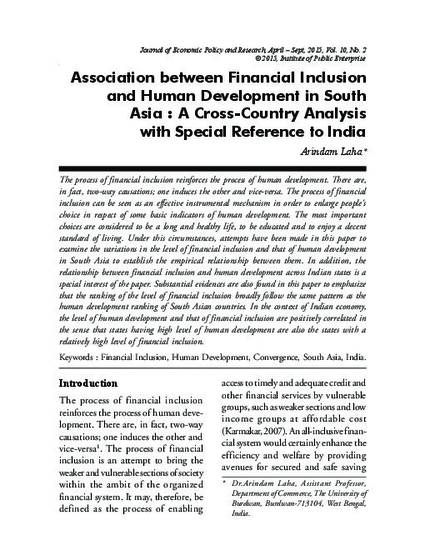 Article
Association between Financial Inclusion and Human Development in South Asia : A Cross-Country Analysis with Special Reference to India
Journal of Economic Policy and Research (2015)
Abstract
The process of financial inclusion reinforces the process of human development. There are, in fact, two-way causations; one induces the other and vice-versa. The process of financial inclusion can be seen as an effective instrumental mechanism in order to enlarge people's choice in respect of some basic indicators of human development. The most important choices are considered to be a long and healthy life, to be educated and to enjoy a decent standard of living. Under this circumstances, attempts have been made in this paper to examine the variations in the level of financial inclusion and that of human development in South Asia to establish the empirical relationship between them. In addition, the relationship between financial inclusion and human development across Indian states is a special interest of the paper. Substantial evidences are also found in this paper to emphasize that the ranking of the level of financial inclusion broadly follow the same pattern as the human development ranking of South Asian countries. In the context of Indian economy, the level of human development and that of financial inclusion are positively correlated in the sense that states having high level of human development are also the states with a relatively high level of financial inclusion.
Keywords
Financial Inclusion,
Human Development,
Convergence,
South Asia,
India
Publication Date
April, 2015
Citation Information
Dr. Arindam Laha. "Association between Financial Inclusion and Human Development in South Asia : A Cross-Country Analysis with Special Reference to India"
Journal of Economic Policy and Research
Vol. 10 Iss. 2 (2015)
Available at: http://works.bepress.com/arindam_laha/6/