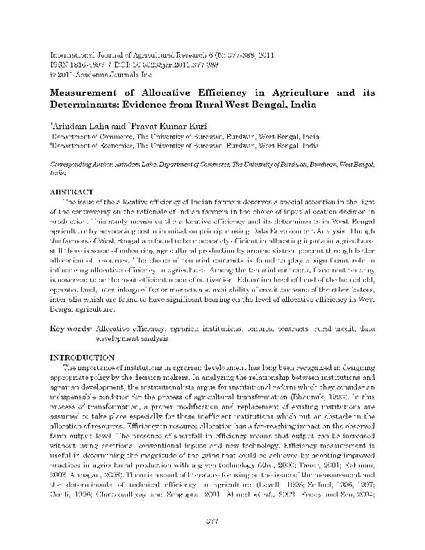 Article
Measurement of Allocative Efficiency in Agriculture and its Determinants: Evidence from Rural West Bengal, India
International Journal of Agricultural Research (2011)
Abstract
The issue of the allocative efficiency of Indian farmers deserves a special attention in the light of the controversy on the rationale of Indian farmers in the choice of input allocation decision in production. This study measures the allocative efficiency and its determinants in West Bengal agriculture by advocating cost minimization principle using Data Envelopment Analysis. Though the farmers of West Bengal are found to be moderately efficient in allocating inputs in agriculture, still there is scope of enhancing agricultural production by around sixteen percent through better allocation of resources. The choice of tenurial contracts is found to play a significant role in influencing allocative efficiency in agriculture. Among the tenurial contracts, fixed rent tenancy is observed to be the most efficient mode of cultivation. Education level of head of the household, operated land, interlinkage of factor markets and availability of credit are some of the other factors, inter alia which are found to have significant bearing on the level of allocative efficiency in West Bengal agriculture.
Citation Information
Dr. Arindam Laha and Dr.Pravat Kumar Kuri. "Measurement of Allocative Efficiency in Agriculture and its Determinants: Evidence from Rural West Bengal, India"
International Journal of Agricultural Research
Vol. 6 Iss. 5 (2011)
Available at: http://works.bepress.com/arindam_laha/2/