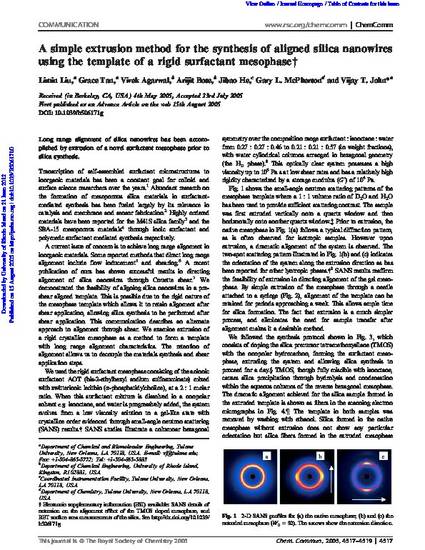 Article
A Simple Extrusion Method for the Synthesis of Aligned Silica Nanowires Using the Template of a Rigid Surface Mesophase
Chemical Engineering Faculty Publications
Date of Original Version
1-1-2005
Abstract
Long range alignment of silica nanowires has been accomplished by extrusion of a novel surfactant mesophase prior to silica synthesis.
Citation Information
Limin, L., Tan, G., Agarwal, V., Bose, A., He, J., McPherson, G. L., & John, V. T. (2005). A Simple Extrusion Method for the Synthesis of Aligned Silica Nanowires Using the Template of a Rigid Surface Mesophase. Chemical Communications. (36), 4517-4519.
Available at: http://www.dx.doi.org/10.1039/B506171G