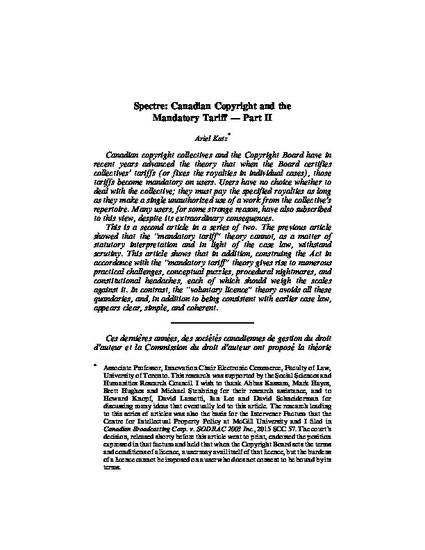 Article
Spectre: Canadian Copyright and the Mandatory Tariff - Part II
Intellectual Property Journal (2015)
Abstract
Canadian copyright collectives and the Copyright Board have in recent years advanced the theory that when the Board certifies collectives' tariffs (or fixes the royalties in individual cases), those tariffs become mandatory on users. Users have no choice whether to deal with the collective; they must pay the specified royalties as long as they make a single unauthorized use of a work from the collective's repertoire. Many users, for some strange reason, have also subscribed to this view, despite its extraordinary consequences.
This is a second article in a series of two. The previous article showed that the "mandatory tariff" theory cannot, as a matter of statutory interpretation and in light of the case law, withstand scrutiny. This article shows that in addition, construing the Act in accordance with the "mandatory tariff" theory gives rise to numerous practical challenges, conceptual puzzles, procedural nightmares, and constitutional headaches, each of which should weigh the scales against it. In contrast, the "voluntary licence" theory avoids all these quandaries, and, in addition to being consistent with earlier case law, appears clear, simple, and coherent.
Keywords
copyright,
copyright collectives,
monopoly,
constitutional law,
rule of law,
Canada
Citation Information
Ariel Katz. "Spectre: Canadian Copyright and the Mandatory Tariff - Part II"
Intellectual Property Journal
Vol. 28 Iss. 1 (2015) p. 39 - 99
Available at: http://works.bepress.com/ariel_katz/27/