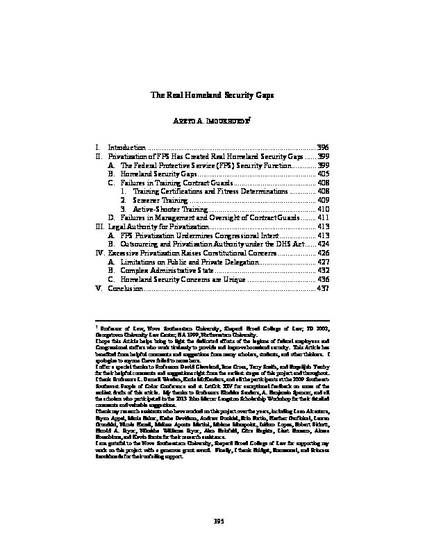 Article
The Real Homeland Security Gaps
Ohio Northern University Law Review (2016)
Abstract
This Article reveals the real security gaps in the Department of Homeland Security's Federal Protective Service ("FPS") and suggests that the excessive delegation of FPS's vital security functions to private contractors should be treated as an unconstitutional delegation of an inherently governmental function. It presents the FPS mission of protecting critical federal infrastructure as a national priority that Congress recognized after 9/11 as vitally important to the nation's homeland security.  Despite this recognition, there has been widespread delegation of the FPS security function to private contractors.  The Article considers the regulatory and constitutional law concerns raised by privatization, suggesting that excessive privatization of the FPS security function undermines core democratic precepts and therefore ought to be treated as an unconstitutional private delegation.
Keywords
security,
inherently governmental function,
homeland security,
delegation,
privatization
Citation Information
Areto A Imoukhuede. "The Real Homeland Security Gaps"
Ohio Northern University Law Review
Vol. 42 Iss. 2 (2016) p. 395438
Available at: http://works.bepress.com/areto_imoukhuede/6/