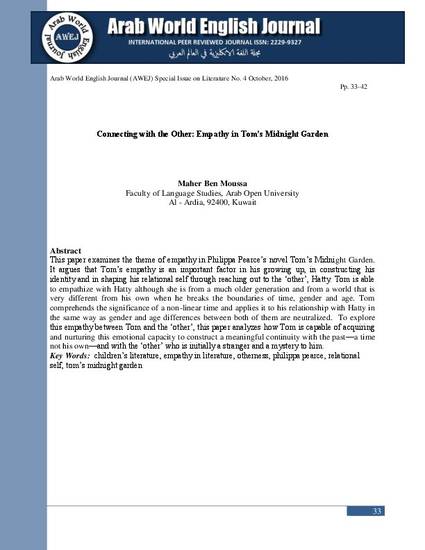 Article
Connecting with the Other: Empathy in Tom's Midnight Garden
Arab World English Journal (2016)
Abstract
This paper examines the theme of empathy in Philippa Pearce's novel Tom's Midnight Garden. It argues that Tom's empathy is an important factor in his growing up, in constructing his identity and in shaping his relational self through reaching out to the 'other', Hatty. Tom is able to empathize with Hatty although she is from a much older generation and from a world that is very different from his own when he breaks the boundaries of time, gender and age. Tom comprehends the significance of a non-linear time and applies it to his relationship with Hatty in the same way as gender and age differences between both of them are neutralized.  To explore this empathy between Tom and the 'other', this paper analyzes how Tom is capable of acquiring and nurturing this emotional capacity to construct a meaningful continuity with the past—a time not his own—and with the 'other' who is initially a stranger and a mystery to him.  
Keywords
children's literature,
empathy in literature,
otherness,
philippa pearce,
relational self,
tom's midnight garden
Publication Date
Fall October 15, 2016
Citation Information
Maher Ben Moussa. "Connecting with the Other: Empathy in Tom's Midnight Garden"
Arab World English Journal
Iss. 4 (2016) p. 33 - 42 ISSN: 2229-9327
Available at: http://works.bepress.com/arabworldenglishjournal-awej/310/