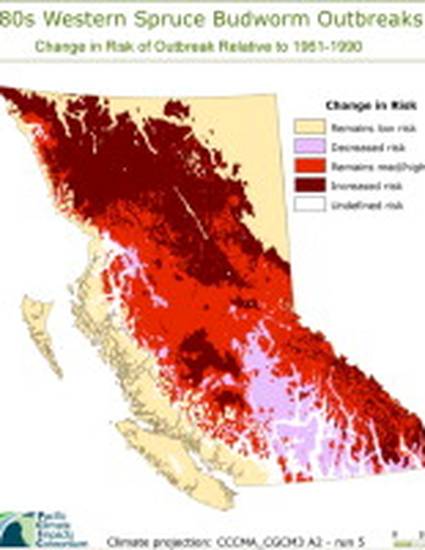 Article
Pest Outbreak Distribution and Forest Management Impacts in a Changing Climate in British Columbia
Environmental Science and Policy (2012)
Abstract
This paper examines the risks associated with forest insect outbreaks in a changing climate from biological and forest management perspectives. Two important Canadian insects were considered: western spruce budworm (WSBW; 
Choristoneura occidentalis
 Freeman, Lepidoptera: Tortricidae), and spruce bark beetle (SBB; 
Dendroctonus rufipennis Kirby
, Coleoptera: Curculionidae). This paper integrates projections of tree species suitability, pest outbreak risk, and bio-economic modelling.
Several methods of estimating pest outbreak risk were investigated. A simple climate envelope method based on empirically derived climate thresholds indicates substantial changes in the distribution of outbreaks in British Columbia for two climate scenarios and both pests. A "proof of concept" bio-economic model, to inform forest management decisions in a changing climate, considers major stand-level harvest decision factors, such as preservation of old-growth forest, and even harvest flow rates in the presence of changing tree species suitability and outbreak risk. The model was applied to data for the Okanagan Timber Supply Area and also the entire Province of British Columbia.
At the provincial level, the model determined little net timber production impact, depending on which of two climate scenarios was considered. Several potentially important factors not considered in this first version of the model are discussed, which indicates that impact may be underestimated by this preliminary study. Despite these factors, negative impacts were projected at the Okanagan Timber Supply Area level for both scenarios.
Policy implications are described as well as guidance for future work to determine impacts of climate change on future distribution and abundance of forest resources.
Keywords
Climate impacts,
Pest outbreak,
Forestry,
Economics,
British Columbia,
Downscaling,
Forest management
Publication Date
February, 2012
DOI
Montenegroa, f, Francis W. Zwiersa, René Alfarob, David L. Spittlehousec Show more https://doi.org/10.1016/j.envsci.2012.07.026
Citation Information
Trevor Q. Murdock, Aquila Flower, Stephen W. Taylor, Alan Mehlenbacher, et al.. "Pest Outbreak Distribution and Forest Management Impacts in a Changing Climate in British Columbia"
Environmental Science and Policy
Vol. 26 (2012) p. 75 - 89
Available at: http://works.bepress.com/aquila-flower/5/