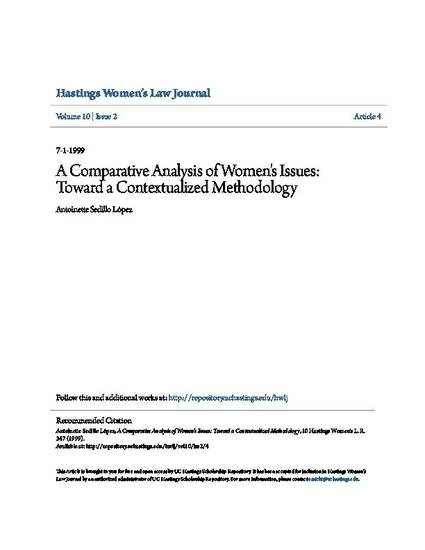 Article
A Comparative Analysis of Women's Issues: Toward a Contextualized Approach
Hastings Law Journal
Publication Date
1-1-1999
Abstract
"This Article proposes a methodology for comparative analysis of women's rights using insights from critical race theory and feminism. Comparative analysis by a Western scholar must reconcile a perspective developed in the United States with respect for another culture. In discussing women's rights, lawyers, judges, students and sociologists have justified certain women's situations as an inherent aspect of culture. For example, traditional "female genital surgery" has been defended as a "mere bodily mutilation" that is the "sine qua non of the whole teaching of tribal law, religion, and morality." In Mexico, "machismo" has been justified as an immutable characteristic of Mexican culture that should be respected. Cultural relativists maintain that criticizing cultural norms is akin to advocating cultural genocide. Thus, comparative analysis faces the challenge of respecting cultural differences." Reprinted in Global Critical Race Feminism: An International Reader, ed. Adrien Katherine Wing (2000).
Citation Information
Antoinette Sedillo Lopez. "A Comparative Analysis of Women's Issues: Toward a Contextualized Approach"
Hastings Law Journal
Vol. 10 (1999) p. 347
Available at: http://works.bepress.com/antoinette-sedillolopez/31/