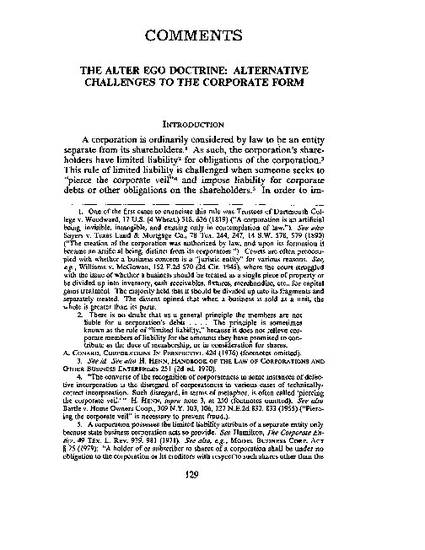 Article
The Alter Ego Doctrine: Alternative Challenges to the Corporate Form
UCLA Law Review
Publication Date
1-1-1983
Abstract
This Comment examines alternative challenges to the separate entity fiction. First, it will analyze the economic policies underlying the separate entity concept and the justification for imposing shareholder liability in typical alter ego cases. Second, this Comment will review cases in which the corporate entity is challenged for alternative purposes and demonstrate how the usual alter ego analysis fails in these cases. Finally, this Comment proposes a three-stage analysis for examining alternative challenges to the separate entity fiction. The proposal would require courts to analyze the facts of the cases, identify the policies underlying the challenge, and balance the economic and non-economic policies that would be either furthered or frustrated by disregarding the separate corporate entity concept. This Comment will then demonstrate the utility of this framework by showing how the analysis would work in cases involving alternative challenges.
Citation Information
Antoinette Sedillo Lopez. "The Alter Ego Doctrine: Alternative Challenges to the Corporate Form"
UCLA Law Review
Vol. 30 (1983) p. 129
Available at: http://works.bepress.com/antoinette-sedillolopez/28/