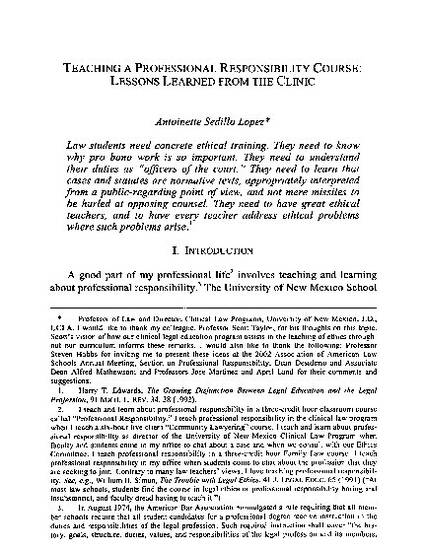 Article
Teaching a Professional Responsibility Course: Lessons Learned from the Clinic
Journal of the Legal Profession
Publication Date
1-1-2002
Abstract
In teaching Ethics or Professional Responsibility, I want to do more than teach students the law of the course. While it is important that students become familiar with and able to navigate the rules of professional responsibility, my clinical teaching has helped me develop additional educational objectives that I believe will affect their lives as future lawyers. I categorize my objectives in a three-credit classroom professional responsibility course as three-fold: 1) teaching the law of lawyering; 2) exploring professionalism issues;20 and 3) critically examining the profession. I will discuss a few of my experiences teaching in the clinic and how they have taught me why a three-credit course on Professional Responsibility should expand its teaching goals beyond the law of the course.
Citation Information
Antoinette Sedillo Lopez. "Teaching a Professional Responsibility Course: Lessons Learned from the Clinic"
Journal of the Legal Profession
Vol. 26 (2002) p. 149
Available at: http://works.bepress.com/antoinette-sedillolopez/26/