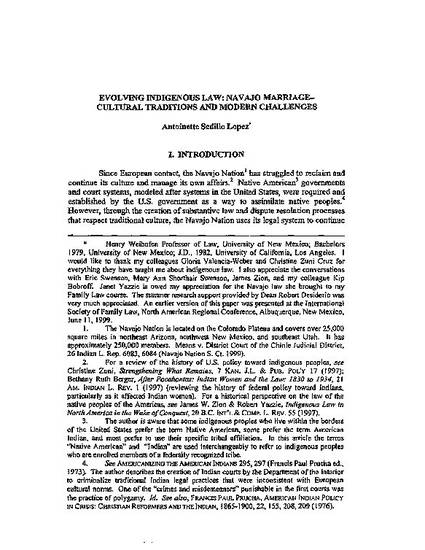 Article
Evolving Indigenous Law: Navajo Marriage--Cultural Traditions and Modern Challenges
Arizona Journal of International and Comparative Law
Publication Date
1-1-2000
Abstract
Tribal regulation of marriage is an example of tribal government and tribal court using the legal system to reclaim traditional values and to resist (at least in part) the dominant values imposed on the Navajo Nation. Identity as Dine (the Navajos term to refer to themselves) is based on clan affiliations, which are determined by blood and marriage. Marriage has been an important and sacred institution in Navajo tradition. The Navajo Supreme Court and the Tribal Council have attempted to find a substantive law of marriage that respects traditional Navajo culture while meeting contemporary needs of Navajo people. The Navajo Nation's legal regulation of marriage has changed over time in a struggle to balance respect for sacred tradition and the needs of contemporary Navajo people. Ultimately, the Navajo Supreme Court and Tribal Council developed marital tribal law in a way that resists, at least in part, dominant Anglo-American cultural values concerning marriage, and meets the needs of the Navajo people.
Citation Information
Antoinette Sedillo Lopez. "Evolving Indigenous Law: Navajo Marriage--Cultural Traditions and Modern Challenges"
Arizona Journal of International and Comparative Law
Vol. 17 (2000) p. 283
Available at: http://works.bepress.com/antoinette-sedillolopez/23/