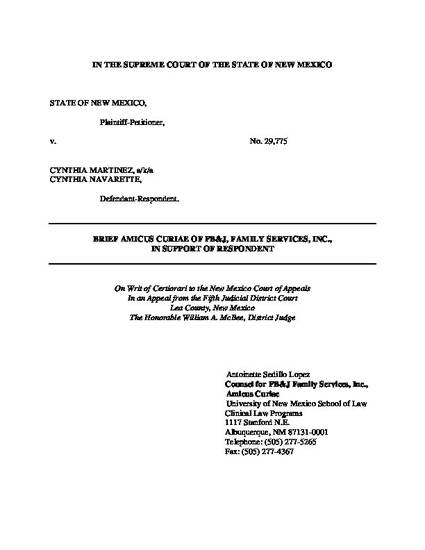 Other
Brief Amicus Curiae of PB&J, Family Services, Inc.
Brief Amicus Curiae
Publication Date
3-1-2007
Abstract
PB&J, Family Services, Inc., through this brief as amicus curiae, has demonstrated that the decision rendered by the Court of Appeals was correct. The New Mexico Legislature did not draft NMSA 1978, § 36-6-1(D) (1973) to encompass the situation of a pregnant woman using drugs or alcohol during pregnancy. The Legislatures failure to pass legislation specifically criminalizing such conduct after careful consideration indicates that the Legislature did not intend for the statute to be so broadly construed. This is particularly true when considering the fiscal impact reports accompanying the proposed legislation. This decision by the Legislature is consistent with sound socioeconomic policy that was cited in the fiscal impact reports accompanying the proposed bills. Criminalizing drug use during pregnancy would have a devastating effect on pregnant women and their fetuses' health. In addition, criminalizing behavior during pregnancy would also likely burden a pregnant woman's decision to carry her fetus to term. Further, the children of these women would also suffer the effects of separation from their mothers at critical developmental stages. These women and children would likely have better psychological outcomes from treatment not incarceration. In addition, studies of attempts to criminalize behavior during pregnancy nationally indicate that prosecution under the State's proposed interpretation of NMSA 1978, § 36-6-1(D) (1973) would in all probability have a disparate effect on low-income women, women of color, and their children. Finally, a cost-benefit analysis of the potential impact of prosecuting women for using drugs during pregnancy reveals a negative financial impact on the foster care and juvenile justice systems of this State. New Mexico cannot afford to create an additional category of children likely to end up in the foster care system. Treatment is a more cost-effective option.
Keywords
Amicus Briefs,
Drug Use During Pregnancy,
Fetal Health,
State Court Decisions,
United States Supreme Court Decisions,
New Mexico Statutes,
Federal Statutes,
Federal Regulations,
New Mexico Legislation
Citation Information
Antoinette Sedillo Lopez, Iris Augusten, Deana M. Bennett, Amber Chavez, et al.. "Brief Amicus Curiae of PB&J, Family Services, Inc."
Brief Amicus Curiae
(2007)
Available at: http://works.bepress.com/antoinette-sedillolopez/14/