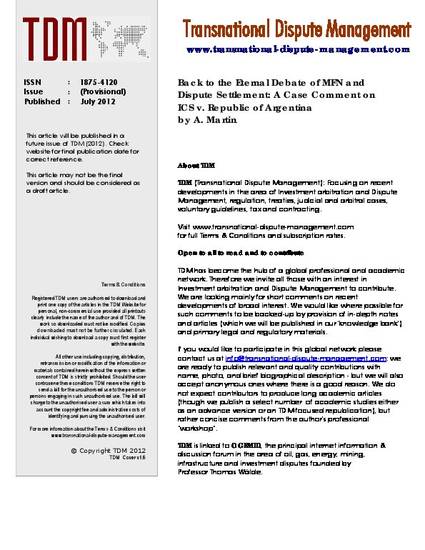 Article
Back to the eternal debate of MFN and dispute settlement: A case comment on ICS v. Republic of Argentina
Transnational Dispute Management (TDM) (2012)
Abstract
Most-Favoured Nation (MFN) clauses and their possible extension to dispute settlement mechanisms are at the heart of a significant debate in international investments law. This debate is very lively but it is currently unsettled, as demonstrated by persisting disagreements between opposite Schools of thoughts and multiple inconsistencies in arbitral decisions. MFN clauses were reconsidered recently following a claim brought by ICS Inspection and Control Services Limited against Argentina before the Permanent Court of Arbitration (PCA). The PCA arbitrators rendered a decision in February 2011 in which jurisdiction was rejected together with the idea that a MFN can be extended to dispute settlement clauses to allow foreign investors to benefit from more favourable arbitration clauses lacking pre-arbitration requirements. The ICS decision on jurisdiction does not however help identifying a consistent trend. This paper provides a summary of the parties' arguments as well as a brief commentary as to the conclusions of the arbitrators.
Keywords
ICS,
Argentina,
Foreign Direct Investments,
FDI,
dispute settlement,
international arbitration
Publication Date
July, 2012
Citation Information
Antoine Martin. "Back to the eternal debate of MFN and dispute settlement: A case comment on ICS v. Republic of Argentina"
Transnational Dispute Management (TDM)
(2012)
Available at: http://works.bepress.com/antoine_martin/6/