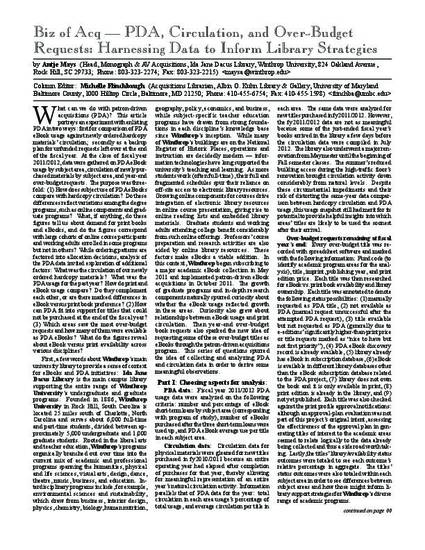 Article
PDA, Circulation, and Over-Budget Requests: Harnessing Data to Inform Library Strategies
Dacus Library Faculty Publications
Publication Date
2-1-2013
Abstract
This article presents the data-rich findings of an experiment with enlisting patron-driven/demand-driven acquisitions (DDA) of ebooks in two ways. The first experiment entailed comparison of DDA eBook usage against newly ordered hardcopy materials' circulation, both overall and ebook vs. print usage within the same subject areas. Secondly, this study experimented with DDA ebooks as a backup plan for unfunded requests left over at the end of the fiscal year.
Citation Information
Mays, Antje. "PDA, Circulation, and Over-Budget Requests: Harnessing Data to Inform Library Strategies". Against the Grain, vol.25:no.1 (February 2013), pp.65-59.