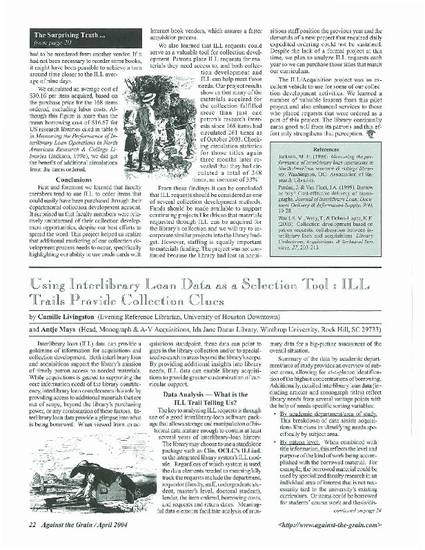 Article
Using Interlibrary Loan Data as a Section Tool: ILL Trails Provide Collection Clues
Dacus Library Faculty Publications
Publication Date
4-1-2004
Abstract
This article describes analyzing Interlibrary Loan data to help inform collection management decision and offers guidance for formulating policies for discerning borrowed titles indicative of gaps in the library from special-interest pursuits beyond the scope of the university curriculum.
Citation Information
Livingston, Camille and Mays, Antje. "Using Interlibrary Loan Data as a Section Tool: ILL Trails Provide Collection Clues". Written jointly with Camille Livingston. Against the Grain, vol.16:no.2, April 2004, pp.24-28. Special issue on best business practices for collaboration between interlibrary loan and acquisitions.