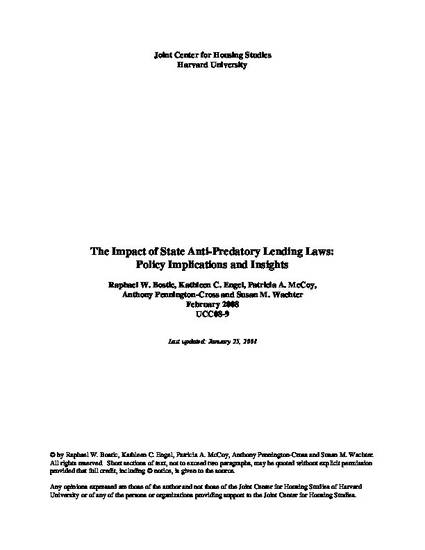 Contribution to Book
The Impact of State Anti-Predatory Lending Laws: Policy Implications and Insights
Understanding Consumer Credit
Document Type
Contribution to Book
Publication Date
2-1-2008
Publisher
Brookings & Harvard Joint Center Press
Abstract
The subprime mortgage market, which consists of high-cost loans designed for borrowers with weak credit, has grown tremendously over the past ten years. Between 1993 and 2005, the subprime market experienced an average annual growth rate of 26 percent. As this market emerged, so did allegations that subprime loans contained predatory features or were the result of predatory sales practices.3 In the worst cases, brokers deceived borrowers about the meaning of loan terms or falsely promised to assist them in obtaining future refinance loans with better terms. In other situations, borrowers entered into loans with low teaser rates, not aware how high their monthly payments could go when their interest rates reset.
Citation Information
Raphael W Bostic, Kathleen C Engel, Patricia A McCoy, Anthony Pennington-Cross, et al.. "The Impact of State Anti-Predatory Lending Laws: Policy Implications and Insights"
Understanding Consumer Credit
(2008)
Available at: http://works.bepress.com/anthony_pennington_cross/30/