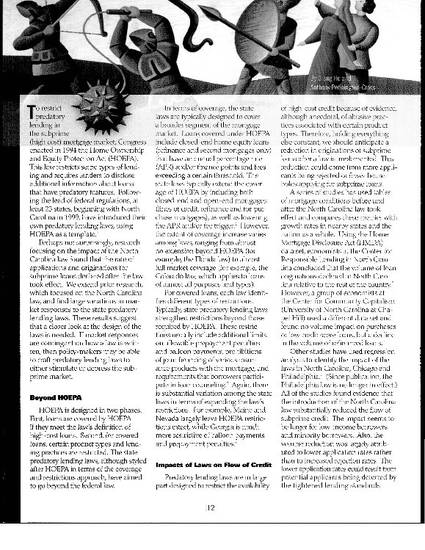 Article
States Fight Predatory Lending Laws in Different Ways
The Regional Economist
Publication Date
1-1-2006
Publisher
Federal Reserve Bank of Saint Louis
Abstract
To restrict predatory lending in the subprime (high cost) mortgage market, Congress enacted in 1994 the Home Ownership and Equity Protection Act (HOEPA). This law restricts some types of lending and requires lenders to disclose additional information about loans that have predatory features. Following the lead of federal regulations, at least 23 states, beginning with North Carolina in 1999, have introduced their own predatory lending laws, using HOEPA as a template.1 Perhaps not surprisingly, research focusing on the impact of the North Carolina law found that the rate of applications and originations for subprime loans declined after the law took effect. We extend prior research, which focused on the North Carolina law, and find large variations in market responses to the state predatory lending laws. These results suggest that a closer look at the design of the laws is needed. If market responses are contingent on how a law is written, then policy-makers may be able to craft predatory lending laws to either stimulate or depress the subprime market.
Citation Information
Giang Ho and Anthony Pennington-Cross. "States Fight Predatory Lending Laws in Different Ways"
The Regional Economist
(2006) ISSN: 1932-4707
Available at: http://works.bepress.com/anthony_pennington_cross/14/