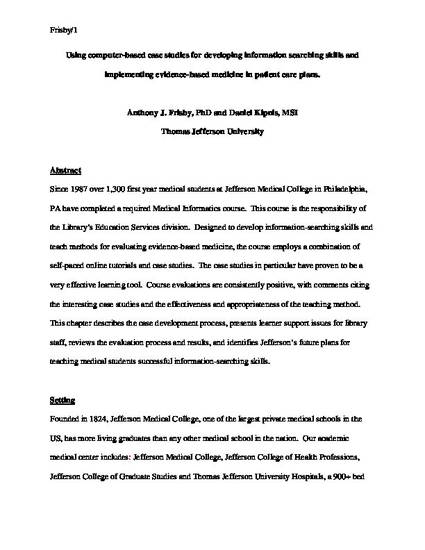 Contribution to Book
Using computer-based case studies for developing information searching skills and implementing evidence-based medicine in patient care plans.
Center for Teaching and Learning and Scott Memorial Library Staff Papers and Presentations
Publication Date
7-1-2003
Abstract
Since 1987 over 1,300 first year medical students at Jefferson Medical College in Philadelphia, PA have completed a required Medical Informatics course. This course is the responsibility of the Library's Education Services division. Designed to develop information-searching skills and teach methods for evaluating evidence-based medicine, the course employs a combination of self-paced online tutorials and case studies. The case studies in particular have proven to be a very effective learning tool. Course evaluations are consistently positive, with comments citing the interesting case studies and the effectiveness and appropriateness of the teaching method. This chapter describes the case development process, presents learner support issues for library staff, reviews the evaluation process and results, and identifies Jefferson's future plans for teaching medical students successful information-searching skills.
Citation Information
Anthony J Frisby and Daniel G Kipnis. "Using computer-based case studies for developing information searching skills and implementing evidence-based medicine in patient care plans." (2003)
Available at: http://works.bepress.com/anthony_frisby/13/