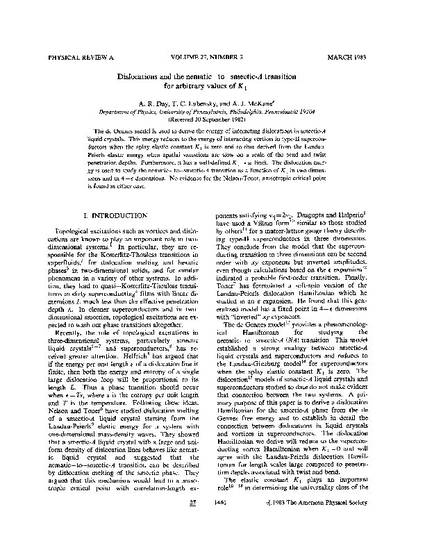 Article
Dislocations and the Nematic to Smectic-A transition for arbitrary values of K1
Physical Review A (1983)
Abstract
The de Gennes model is used to derive the energy of interacting dislocations in smectic-A liquid crystals. This energy reduces to the energy of interacting vortices in type-II superconductors when the splay elastic constant K1 is zero and to that derived from the Landau-Peierls elastic energy when spatial variations are slow on a scale of the bend and twist penetration depths. Furthermore, it has a well-defined K1→∞ limit. The dislocation energy is used to study the nematic—to—smectic-A transition as a function of K1 in two dimensions and in 4-ε dimensions. No evidence for the Nelson-Toner, anisotropic critical point is found in either case.
Publication Date
March, 1983
Citation Information
Anthony Roy Day, T. C. Lubensky and A. J. McKane. "Dislocations and the Nematic to Smectic-A transition for arbitrary values of K1"
Physical Review A
Vol. 27 Iss. 3 (1983)
Available at: http://works.bepress.com/anthony_day/19/