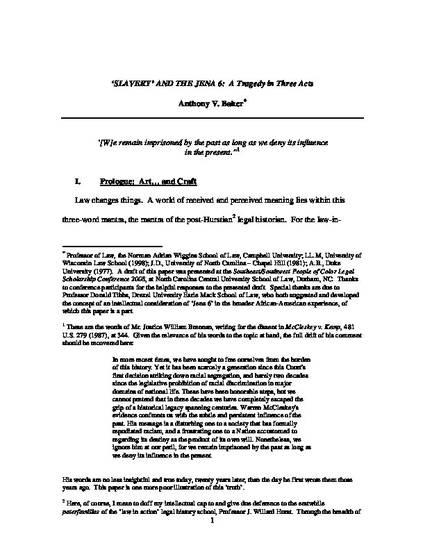 Unpublished Paper
SLAVERY AND THE 'JENA 6': A Tragedy in Three Acts
ExpressO (2009)
Abstract
It is the conviction of this author that the incident holds great promise broadly as an artifact of law-in-society; it is the purpose of this paper to refine one aspect of that promise by considering the connection of the incident to historical African-American slavery. In this way 'Jena 6' is not the focus of the study in itself but rather a lens through which the broad subject of that particular history is considered, within the unique context of American legal history. Specifically, the paper will consider three discrete moments in eighteenth century American history around the tendentious matter of human slavery in a democratic republic, briefly laying 'Jena 6' against each of these pieces. In this the paper will attempt to weave a seamless web, connecting the present incident to a relevant past, and through this to discover its value as a means of imagining an effective future regarding race in this country.
Publication Date
March 22, 2009
Citation Information
Anthony Vincent Baker. "SLAVERY AND THE 'JENA 6': A Tragedy in Three Acts"
ExpressO
(2009)
Available at: http://works.bepress.com/anthony_baker/2/