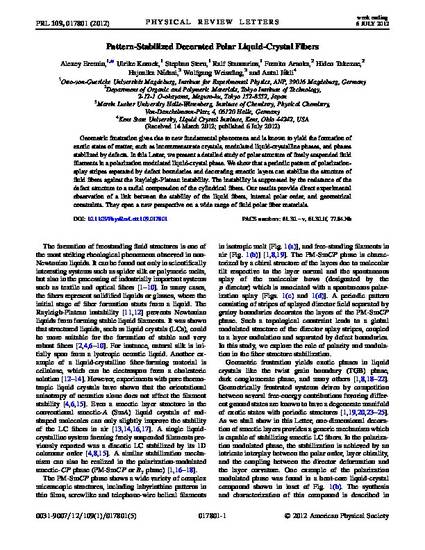 Article
Pattern-Stabilized Decorated Polar Liquid-Crystal Fibers
Physical Review Letters
Publication Date
7-6-2012
DOI
10.1103/PhysRevLett.109.017801
Keywords
frustration,
photonics,
molecules,
phases,
silk
Abstract
Geometric frustration gives rise to new fundamental phenomena and is known to yield the formation of exotic states of matter, such as incommensurate crystals, modulated liquid-crystalline phases, and phases stabilized by defects. In this Letter, we present a detailed study of polar structure of freely suspended fluid filaments in a polarization modulated liquid-crystal phase. We show that a periodic pattern of polarization-splay stripes separated by defect boundaries and decorating smectic layers can stabilize the structure of fluid fibers against the Rayleigh-Plateau instability. The instability is suppressed by the resistance of the defect structure to a radial compression of the cylindrical fibers. Our results provide direct experimental observation of a link between the stability of the liquid fibers, internal polar order, and geometrical constraints. They open a new perspective on a wide range of fluid polar fiber materials.
Citation Information
Alexey Eremin, Ulrike Kornek, Stephan Stern, Ralf Stannarius, et al.. "Pattern-Stabilized Decorated Polar Liquid-Crystal Fibers"
Physical Review Letters
Vol. 109 Iss. 1 (2012)
Available at: http://works.bepress.com/antal_jakli/53/