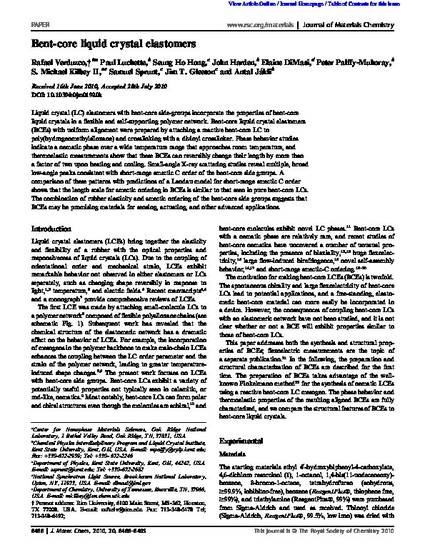 Article
Bent-Core Liquid Crystal Elastomers
Journal of Materials Chemistry (2010)
Abstract
Liquid crystal (LC) elastomers with bent-core side-groups incorporate the properties of bent-core liquid crystals in a flexible and self-supporting polymer network. Bent-core liquid crystal elastomers (BCEs) with uniform alignment were prepared by attaching a reactive bent-core LC to poly(hydrogenmethylsiloxane) and crosslinking with a divinyl crosslinker. Phase behavior studies indicate a nematic phase over a wide temperature range that approaches room temperature, and thermoelastic measurements show that these BCEs can reversibly change their length by more than a factor of two upon heating and cooling. Small-angle X-ray scattering studies reveal multiple, broad low-angle peaks consistent with short-range smectic C order of the bent-core side groups. A comparison of these patterns with predictions of a Landau model for short-range smectic C order shows that the length scale for smectic ordering in BCEs is similar to that seen in pure bent-core LCs. The combination of rubber elasticity and smectic ordering of the bent-core side groups suggests that BCEs may be promising materials for sensing, actuating, and other advanced applications.
Citation Information
Rafael Verduzco, Paul Luchette, Seung Ho Hong, John Harden, et al.. "Bent-Core Liquid Crystal Elastomers"
Journal of Materials Chemistry
Vol. 20 Iss. 39 (2010)
Available at: http://works.bepress.com/antal_jakli/37/