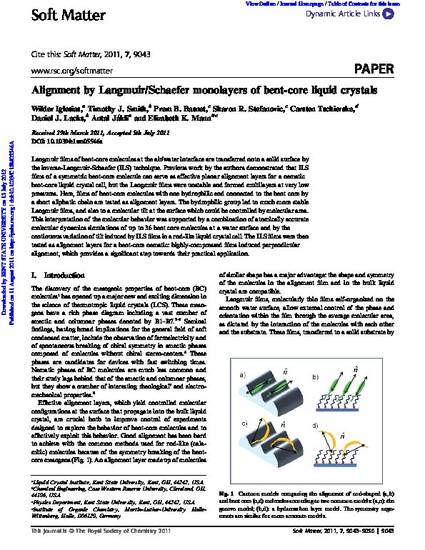 Article
Alignment by Langmuir/Schaefer Monolayers of Bent-Core Liquid Crystals
Soft Matter (2011)
Abstract
Langmuir films of bent-core molecules at the air/water interface are transferred onto a solid surface by the inverse-Langmuir-Schaefer (ILS) technique. Previous work by the authors demonstrated that ILS films of a symmetric bent-core molecule can serve as effective planar alignment layers for a nematic bent-core liquid crystal cell, but the Langmuir films were unstable and formed multilayers at very low pressures. Here, films of bent-core molecules with one hydrophilic end connected to the bent core by a short aliphatic chain are tested as alignment layers. The hydrophilic group led to much more stable Langmuir films, and also to a molecular tilt at the surface which could be controlled by molecular area. This interpretation of the molecular behavior was supported by a combination of atomically accurate molecular dynamics simulations of up to 36 bent core molecules at a water surface and by the continuous variation of tilt induced by ILS films in a rod-like liquid crystal cell. The ILS films were then tested as alignment layers for a bent-core nematic: highly-compressed films induced perpendicular alignment, which provides a significant step towards their practical application.
Keywords
Langmuir-Blodgett-Films,
Banana-Shaped Compounds,
Molecular-Dynamics,
Optical-Properties,
Achiral Molecules,
Brewster-Angle,
Smectic Phase,
Water-Surface,
Systems,
Visualization
Publication Date
August 11, 2011
Citation Information
Wilder Iglesias, Timothy J. Smith, Prem B. Basnet, Sharon R. Stefanovic, et al.. "Alignment by Langmuir/Schaefer Monolayers of Bent-Core Liquid Crystals"
Soft Matter
Vol. 7 Iss. 19 (2011)
Available at: http://works.bepress.com/antal_jakli/33/