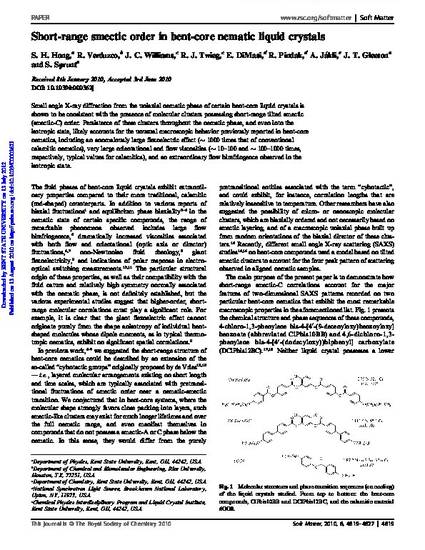 Article
Short-Range Smectic Order in Bent-Core Nematic Liquid Crystals
Soft Matter (2010)
Abstract
Small angle X-ray diffraction from the uniaxial nematic phase of certain bent-core liquid crystals is shown to be consistent with the presence of molecular clusters possessing short-range tilted smectic (smectic-C) order. Persistence of these clusters throughout the nematic phase, and even into the isotropic state, likely accounts for the unusual macroscopic behavior previously reported in bent-core nematics, including an anomalously large flexoelectric effect (similar to 1000 times that of conventional calamitic nematics), very large orientational and flow viscosities (similar to 10 100 and similar to 100 1000 times, respectively, typical values for calamitics), and an extraordinary flow birefringence observed in the isotropic state.
Keywords
X-Ray-Diffraction,
Phase-Transitions,
Scattering,
Mesophase,
Mesogens
Publication Date
August 13, 2010
Citation Information
S. H. Hong, R. Verduzco, J. C. Williams, R. J. Twieg, et al.. "Short-Range Smectic Order in Bent-Core Nematic Liquid Crystals"
Soft Matter
Vol. 6 Iss. 19 (2010)
Available at: http://works.bepress.com/antal_jakli/1/