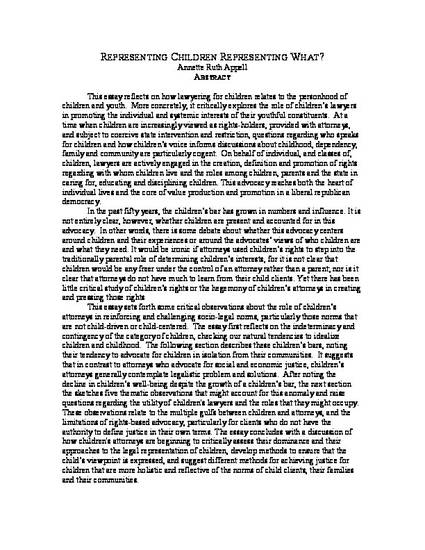 Article
Representing Children Representing What?
Columbia Human Rights Law Review (2008)
Abstract
This essay reflects on how lawyering for children relates to the personhood of children and youth. More concretely, it critically explores the role of children's lawyers in promoting the individual and systemic interests of their youthful constituents. At a time when children are increasingly viewed as rights-holders, provided with attorneys, and subject to coercive state intervention and restriction, questions regarding who speaks for children and how children's voice informs discussions about childhood, dependency, family and community are particularly cogent. On behalf of individual, and classes of, children, lawyers are actively engaged in the creation, definition and promotion of rights regarding with whom children live and the roles among children, parents and the state in caring for, educating and disciplining children. This advocacy reaches both the heart of individual lives and the core of value production and promotion in a liberal republican democracy. In the past fifty years, the children's bar has grown in numbers and influence. It is not entirely clear, however, whether children are present and accounted for in this advocacy. In other words, there is some debate about whether this advocacy centers around children and their experiences or around the advocates' views of who children are and what they need. It would be ironic if attorneys used children's rights to step into the traditionally parental role of determining children's interests, for it is not clear that children would be any freer under the control of an attorney rather than a parent; nor is it clear that attorneys do not have much to learn from their child clients. Yet there has been little critical study of children's rights or the hegemony of children's attorneys in creating and pressing those rights. This essay sets forth some critical observations about the role of children's attorneys in reinforcing and challenging socio-legal norms, particularly those norms that are not child-driven or child-centered. The essay first reflects on the indeterminacy and contingency of the category of children, checking our natural tendencies to idealize children and childhood. The following section describes these children's bars, noting their tendency to advocate for children in isolation from their communities. It suggests that in contrast to attorneys who advocate for social and economic justice, children's attorneys generally contemplate legalistic problem and solutions. After noting the decline in children's well-being despite the growth of a children's bar, the next section the sketches five thematic observations that might account for this anomaly and raise questions regarding the utility of children's lawyers and the roles that they might occupy. These observations relate to the multiple gulfs between children and attorneys, and the limitations of rights-based advocacy, particularly for clients who do not have the authority to define justice in their own terms. The essay concludes with a discussion of how children's attorneys are beginning to critically assess their dominance and their approaches to the legal representation of children, develop methods to ensure that the child's viewpoint is expressed, and suggest different methods for achieving justice for children that are more holistic and reflective of the norms of child clients, their families and their communities.
Citation Information
annette ruth appell. "Representing Children Representing What?"
Columbia Human Rights Law Review
Vol. 39 (2008)
Available at: http://works.bepress.com/annette_appell/1/