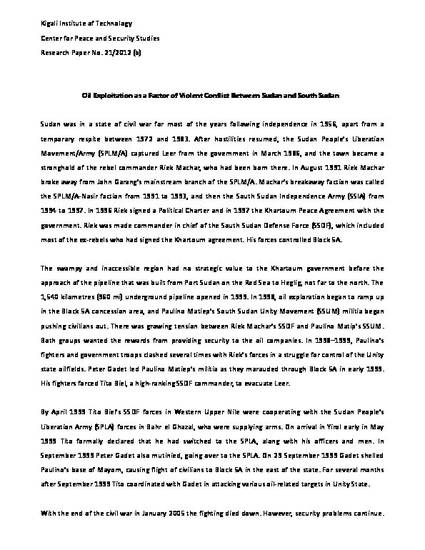 Unpublished Paper
Oil Exploitation as a Factor of Violent Conflict Between Sudan and South Sudan
Kigali Institute of Technology (2012)
Abstract
Sudan was in a state of civil war for most of the years following independence in 1956, apart from a temporary respite between 1972 and 1983. After hostilities resumed, the Sudan People's Liberation Movement/Army (SPLM/A) captured Leer from the government in March 1986, and the town became a stronghold of the rebel commander Riek Machar, who had been born there. In August 1991 Riek Machar broke away from John Garang's mainstream branch of the SPLM/A. Machar's breakaway faction was called the SPLM/A-Nasir faction from 1991 to 1993, and then the South Sudan Independence Army (SSIA) from 1994 to 1997. In 1996 Riek signed a Political Charter and in 1997 the Khartoum Peace Agreement with the government. Riek was made commander in chief of the South Sudan Defense Force (SSDF), which included most of the ex-rebels who had signed the Khartoum agreement. His forces controlled Block 5A. The swampy and inaccessible region had no strategic value to the Khartoum government before the approach of the pipeline that was built from Port Sudan on the Red Sea to Heglig, not far to the north. The 1,540 kilometres (960 mi) underground pipeline opened in 1999. In 1998, oil exploration began to ramp up in the Block 5A concession area, and Paulino Matiep's South Sudan Unity Movement (SSUM) militia began pushing civilians out. There was growing tension between Riek Machar's SSDF and Paulino Matip's SSUM. Both groups wanted the rewards from providing security to the oil companies. In 1998–1999, Paulino's fighters and government troops clashed several times with Riek's forces in a struggle for control of the Unity state oilfields. Peter Gadet led Paulino Matiep's militia as they marauded through Block 5A in early 1999. His fighters forced Tito Biel, a high-ranking SSDF commander, to evacuate Leer.
Keywords
Sudan,
South Sudan,
oil exploitation,
war,
politics
Publication Date
Fall December 26, 2012
Citation Information
Anne Hamilton. "Oil Exploitation as a Factor of Violent Conflict Between Sudan and South Sudan"
Kigali Institute of Technology
(2012)
Available at: http://works.bepress.com/anne_hamilton/2/