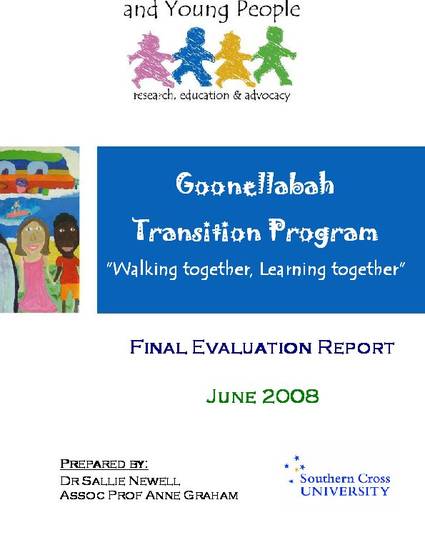 Other
Goonellabah Transition Program: 'Walking Together, Learning Together': final evaluation report
Commonwealth Department of Families, Housing, Community Services & Indigenous Affairs (FaCSIA)
Publication Date
1-1-2008
Abstract
Extensive national and international research from many different fields has consistently demonstrated the critical importance of children's early life experiences and circumstances on their subsequent development and wellbeing throughout their lives. There is clear evidence that well-founded, well-implemented prevention and early intervention programs, starting early in life, can improve young children's cognitive, social and emotional functioning. This results in a positive influence on their readiness to learn in the school setting and improves educational, social, emotional and health outcomes throughout their lives. Cost-effectiveness analyses have shown that such programs more than pay for themselves, by reducing the later need for government-funded services. As well as these positive outcomes for the children, there are also "ripple" effects across a range of outcomes for their families and communities generally. The Goonellabah Transition Program (GTP) developed from the concerns among some primary school principals in the Lismore/Goonellabah area that some children were starting school at a significant disadvantage to most other children. While some had attended early childhood education services, it was felt they also needed a more structured, multidisciplinary and intensive program to help them prepare to enter Kindergarten on a more level playing field. Therefore, the principals liaised with the Coordinator of the nearby Box Ridge Transition to School Program (BRTP), a locally-developed program which began in 1999 and was receiving positive responses from families and school staff – about establishing a similar program for Lismore/Goonellabah children.
Citation Information
Newell, S & Graham, A 2008, Goonellabah Transition Program: 'Walking Together, Learning Together': final evaluation report, prepared for Commonwealth Department of Families, Housing, Community Services & Indigenous Affairs (FaCSIA), Canberra, ACT.