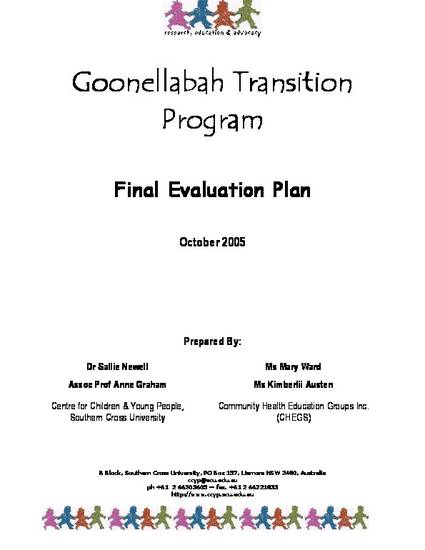 Other
Goonellabah Transition Program: final evaluation plan
Commonwealth Department of Families, Housing, Community Services & Indigenous Affairs (FaCSIA)
Publication Date
1-1-2005
Abstract
Program Rationale National and international evidence An extensive national and international body of literature has demonstrated that the early years of life have a substantial impact on a child's social, emotional, physical and cognitive development and wellbeing throughout their life course. Similarly, it is clear that various aspects of a child's environment, from socioeconomic factors (eg: poverty), through to community factors (eg: violence, social cohesion) and family factors (eg: parenting styles, intra-family conflict), all impact greatly on educational outcomes and are vital determinants of a child's long-term health and wellbeing. There is clear evidence that well-founded and well-implemented universal and targeted prevention and early intervention programs, starting early in life, can lead to improved cognitive, social and emotional functioning of preschool-aged children. This results in a positive influence on readiness to learn in the school setting and improves educational, social and health outcomes throughout the life course. Cost-effectiveness analyses have demonstrated that such programs more than pay for themselves, by reducing the later need for government-funded services. As well as these positive outcomes for children themselves, there are also "ripple" effects across a range of outcomes for their families and communities generally. Consequently, major international reports [Start Right: Importance of Early Learning (UK), Rethinking the Brain: New Insights into Early Childhood Development (USA) and Reversing the Real Brain Drain: Early Years Study (Canada)] have identified the need for early childhood development programs, that improve educational, health and behavioural outcomes, thereby improving children's transition into Kindergarten.
Citation Information
Newell, S, Austen-Baker, K, Graham, A & Ward, M 2005,Goonellabah Transition Program: final evaluation plan, report prepared for Commonwealth Department of Families, Housing, Community Services & Indigenous Affairs (FaCSIA), Canberra, ACT.