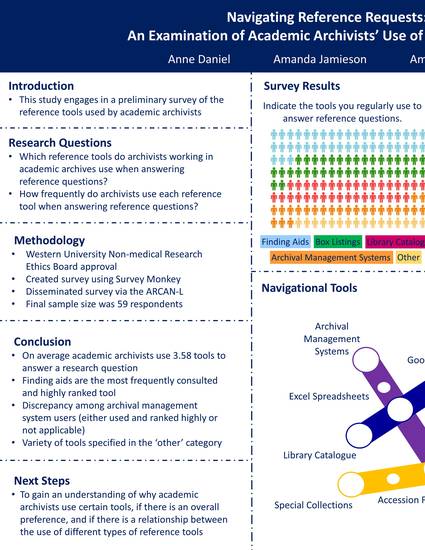 Presentation
Navigating Reference Requests: An Examination of Academic Archivists' Use of Reference Tools
Association of Canadian Archivists (2015)
Abstract
Traditionally, archivists have engaged in arrangement and description and created finding aids to be used as guides to fonds and collections. The creation of finding aids is an established archival function that continues today. The availability of technology, such as a databases, is changing the way that archivists conduct their work. This research examines the tools that archivists use to answer reference questions and begins to look at the following issues: What other tools do archivists use when they assist their researchers? Should the creation of finding aids continue to be a priority for archivists or has the time come for archivists to focus their attention on the development of other tools such as databases? Can finding aids co-exist with other technology-dependent tools? How do finding aids compete with the current trend of databases in archives? This research study sheds light on how archivists conduct reference services and examines traditional ways of engaging in archival work.
Publication Date
Spring June 11, 2015
Citation Information
Anne Daniel, Amanda Oliver and Amanda Jamieson. "Navigating Reference Requests: An Examination of Academic Archivists' Use of Reference Tools"
Association of Canadian Archivists
(2015)
Available at: http://works.bepress.com/anne_daniel/5/