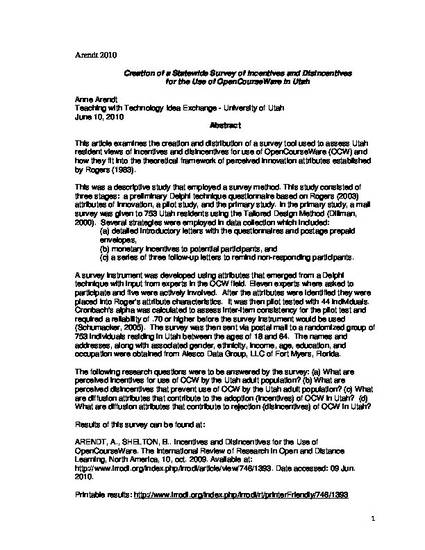 Unpublished Paper
Creation of a Statewide Survey of Incentives and Disincentives for the Use of OpenCourseWare in Utah
(2010)
Abstract
Created for presentation at: Teaching with Technology Idea Exchange (TTIX) June 10, 2010 University of Utah; Salt Lake City, UT http://ttix.org/
This article examines the creation and distribution of a survey tool used to assess Utah resident views of incentives and disincentives for use of OpenCourseWare (OCW) and how they fit into the theoretical framework of perceived innovation attributes established by Rogers (1983).
This was a descriptive study that employed a survey method. This study consisted of three stages: a preliminary Delphi technique questionnaire based on Rogers (2003) attributes of innovation, a pilot study, and the primary study. In the primary study, a mail survey was given to 753 Utah residents using the Tailored Design Method (Dillman, 2000). Several strategies were employed in data collection which included: (a) detailed introductory letters with the questionnaires and postage prepaid envelopes, (b) monetary incentives to potential participants, and (c) a series of three follow-up letters to remind non-responding participants.
A survey instrument was developed using attributes that emerged from a Delphi technique with input from experts in the OCW field. Eleven experts where asked to participate and five were actively involved. After the attributes were identified they were placed into Roger's attribute characteristics. It was then pilot tested with 44 individuals. Cronbach's alpha was calculated to assess inter-item consistency for the pilot test and required a reliability of .70 or higher before the survey instrument would be used (Schumacker, 2005). The survey was then sent via postal mail to a randomized group of 753 individuals residing in Utah between the ages of 18 and 64. The names and addresses, along with associated gender, ethnicity, income, age, education, and occupation were obtained from Alesco Data Group, LLC of Fort Myers, Florida.
The following research questions were to be answered by the survey: (a) What are perceived incentives for use of OCW by the Utah adult population? (b) What are perceived disincentives that prevent use of OCW by the Utah adult population? (c) What are diffusion attributes that contribute to the adoption (incentives) of OCW in Utah? (d) What are diffusion attributes that contribute to rejection (disincentives) of OCW in Utah?
Results of this survey can be found at:
ARENDT, A., SHELTON, B.. Incentives and Disincentives for the Use of OpenCourseWare. The International Review of Research in Open and Distance Learning, North America, 10, oct. 2009. Available at: http://www.irrodl.org/index.php/irrodl/article/view/746/1393. Date accessed: 09 Jun. 2010.
Printable results: http://www.irrodl.org/index.php/irrodl/rt/printerFriendly/746/1393
Keywords
TTIX,
Teaching with Technology Idea Exchange
Publication Date
June 10, 2010
Citation Information
Anne M Arendt. "Creation of a Statewide Survey of Incentives and Disincentives for the Use of OpenCourseWare in Utah" (2010)
Available at: http://works.bepress.com/anne_arendt/9/