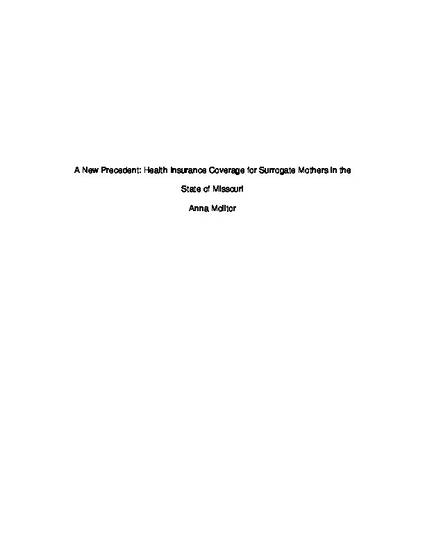 Unpublished Paper
A New Precedent: Health Insurance Coverage for Surrogate Mothers in the State of Missouri
ExpressO (2012)
Abstract
Part I of this Note discusses the current state of traditional and gestational surrogacy in the United States, as well as the Missouri legislature's silence on the issue. Part II analyzes the MercyCare Insurance Co. v. Wisconsin Commissioner of Insurance decision and the underlying policy considerations that led to the Wisconsin Supreme Court's ruling. Part III addresses the important precedent MercyCare could set for other states, including Missouri. This Note concludes with the recommendation that Missouri follow Wisconsin's lead and mandate insurance coverage for infertility treatments, including the use of gestational surrogacy.
Keywords
insurance coverage,
surrogacy
Publication Date
January 4, 2012
Citation Information
Anna L. Molitor. "A New Precedent: Health Insurance Coverage for Surrogate Mothers in the State of Missouri"
ExpressO
(2012)
Available at: http://works.bepress.com/anna_molitor/1/