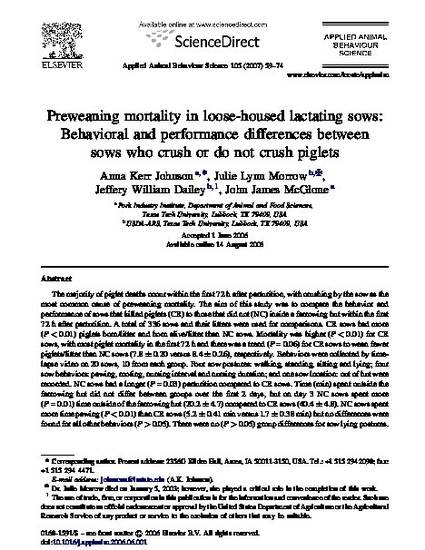 Article
Preweaning mortality in loose-housed lactating sows: Behavioral and performance differences between sows who crush or do not crush piglets
Applied Animal Behaviour Science
Publication Version
Published Version
Publication Date
6-1-2007
DOI
10.1016/j.applanim.2006.06.001
Abstract
The majority of piglet deaths occur within the first 72 h after parturition, with crushing by the sow as the most common cause of preweaning mortality. The aim of this study was to compare the behavior and performance of sows that killed piglets (CR) to those that did not (NC) inside a farrowing hut within the first 72 h after parturition. A total of 336 sows and their litters were used for comparisons. CR sows had more (P < 0.01) piglets born/litter and born alive/litter than NC sows. Mortality was higher (P < 0.01) for CR sows, with most piglet mortality in the first 72 h and there was a trend (P = 0.06) for CR sows to wean fewer piglets/litter than NC sows (7.8 ± 0.20 versus 8.4 ± 0.26), respectively. Behaviors were collected by time-lapse video on 20 sows, 10 from each group. Four sow postures: walking, standing, sitting and lying; four sow behaviors: pawing, rooting, nursing interval and nursing duration; and one sow location: out of hut were recorded. NC sows had a longer (P = 0.03) parturition compared to CR sows. Time (min) spent outside the farrowing hut did not differ between groups over the first 2 days, but on day 3 NC sows spent more (P = 0.01) time outside of the farrowing hut (20.2 ± 4.7) compared to CR sows (40.4 ± 4.8). NC sows spent more time pawing (P < 0.01) than CR sows (5.2 ± 0.41 min versus 1.7 ± 0.38 min) but no differences were found for all other behaviors (P > 0.05). There were no (P > 0.05) group differences for sow lying postures. One hour prior to piglet mortality 62.5% of CR sows moved from lying sternal to lying lateral, 25% moved from lying lateral to lying sternal and 12.5% of CR sows went from standing to lying lateral. In conclusion, CR sows spent more time inside the farrowing hut on day 3, spent more time lying on their sternum prior to crushing a piglet and the behavioral sequence associated with crushing piglets was a shift in lying postures rather than a transition from sitting or standing to lying.
Rights
Works produced by employees of the U.S. Government as part of their official duties are not copyrighted within the U.S. The content of this document is not copyrighted.
File Format
application/pdf
Citation Information
Anna K. Johnson, Julie Lynn Morrow, Jeff W. Dailey and John J. McGlone. "Preweaning mortality in loose-housed lactating sows: Behavioral and performance differences between sows who crush or do not crush piglets"
Applied Animal Behaviour Science
Vol. 105 Iss. 1-3 (2007) p. 59 - 74
Available at: http://works.bepress.com/anna_butters-johnson/51/