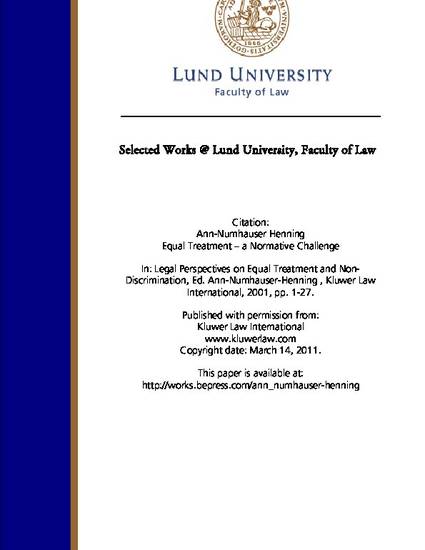 Contribution to Book
Equal Treatment – a Normative Challenge
Legal Perspectives on Equal Treatment and Non-Discrimination (2001)
Abstract
In early December 2000 we gathered, some fifty people, at the Law Faculty at Lund University to discuss the multi-faceted and complex normative issues related to equal treatment and non-discrimination in working life, and the challenge which developments in this area represent to social integration and the legal structures of labour law. The starting-point of the conference discussions was made up of a number of articles reflecting equal-treatment dimensions of different research projects within the Norma programme. Presentations, comments and discussions at the conference were organised along the same lines as this anthology, in three blocks on Non-Discrimination Law and Normative Development in Process, Sex-Discrimination and Legal (In-)Efficiency and Equal Treatment and the Future of Labour Law, respectively. The purpose of this introduction is both to link articles and comments together and to give readers an idea of the sometimes vivid discussions they provoked. It also contains my personal reflections on these contributions and the challenges ahead, as well as a presentation of the 'Normative Field of Discrimination Law' – a section linking discrimination law to the theoretical model of law as normative patterns in a normative field, at the core of the Norma programme. Since the issues, as was initially indicated, are of considerable complexity, some of the arguments made in the introduction might require a careful reading of the articles and comments referred to.
Editor
Ann Numhauser-Henning
Publisher
Kluwer Law International
Citation Information
Ann Numhauser-Henning. "Equal Treatment – a Normative Challenge"
Legal Perspectives on Equal Treatment and Non-Discrimination
(2001)
Available at: http://works.bepress.com/ann_numhauser-henning/6/