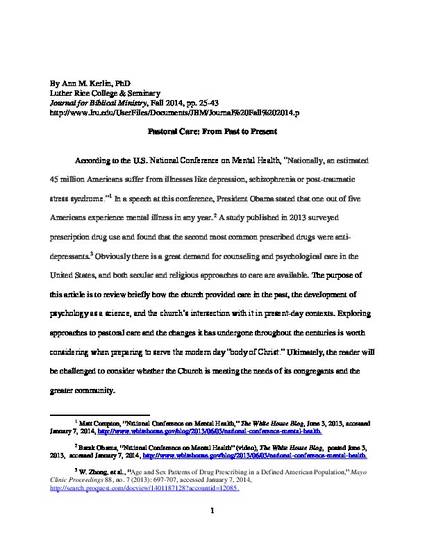 Article
Pastoral Care: From Past to Present
Journal of Biblical Ministries (2014)
Abstract
According to the U.S. National Conference on Mental Health, "Nationally, an estimated 45 million Americans suffer from illnesses like depression, schizophrenia or post-traumatic stress syndrome." In a speech at this conference, President Obama stated that one out of five Americans experience mental illness in any year. A study published in 2013 surveyed prescription drug use and found that the second most common prescribed drugs were anti-depressants. Obviously there is a great demand for counseling and psychological care in the United States, and both secular and religious approaches to care are available. The purpose of this article is to review briefly how the church provided care in the past, the development of psychology as a science, and the church's intersection with it in present-day contexts. Exploring approaches to pastoral care and the changes it has undergone throughout the centuries is worth considering when preparing to serve the modern day "body of Christ." Ultimately, the reader will be challenged to consider whether the Church is meeting the needs of its congregants and the greater community.
Keywords
pastoral care,
biblical counseling,
applied theology,
Christianity
Publication Date
Summer September 30, 2014
Citation Information
Ann Marie Kerlin. "Pastoral Care: From Past to Present"
Journal of Biblical Ministries
Vol. Fall Iss. 1 (2014)
Available at: http://works.bepress.com/ann_kerlin/2/