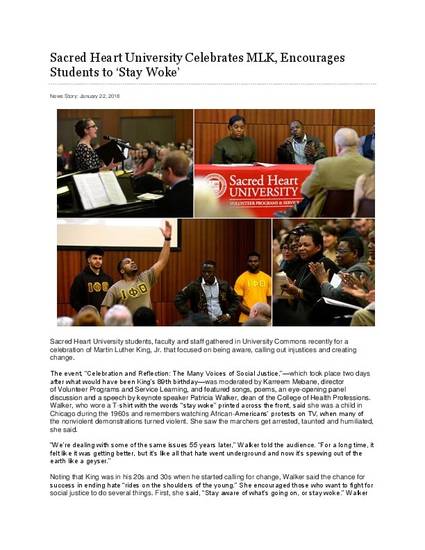 Popular Press
Sacred Heart University Celebrates MLK, Encourages Students to 'Stay Woke'
Sacred Heart University News Story (2018)
Abstract
Sacred Heart University students, faculty and staff gathered in University Commons recently for a celebration of Martin Luther King, Jr. that focused on being aware, calling out injustices and creating change.
A panel of students and English
 Professor Anita August
 discussed King's 
Letter from a Birmingham Jail
. The group addressed their thoughts on the letter King wrote after his arrest in 1963 in response to clergy who did not believe in nonviolent protests to fight racism.
"The irony of the letter is that it was written from jail, a place where someone might feel dejected, but MLK felt empowered," August said.
Publication Date
January 22, 2018
Citation Information
Sacred Heart University celebrates MLK, encourages students to 'Stay Woke'. (2018, 22 January). Sacred Heart University News Story