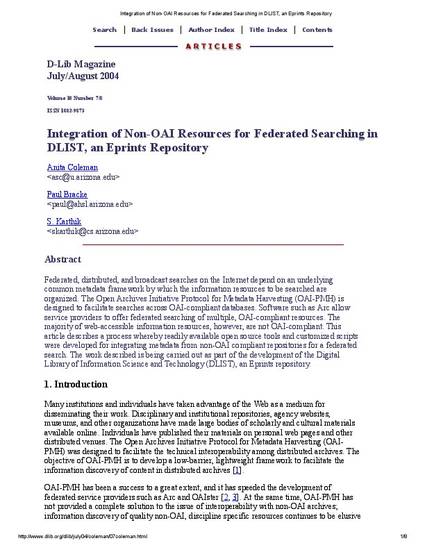 Article
Integration of Non-OAI Resources for Federated Searching in DLIST
D-Lib Magazine (2004)
Abstract
Federated, distributed, and broadcast searches on the Internet depend on an underlying common metadata framework by which the information resources to be searched are organized. The Open Archives Initiative Protocol for Metadata Harvesting (OAI-PMH) is designed to facilitate searches across OAI-compliant databases. Software such as Arc allow service providers to offer federated searching of multiple, OAI-compliant resources. The majority of web-accessible information resources, however, are not OAI-compliant. This article describes a process whereby readily available open source tools and customized scripts were developed for integrating metadata from non-OAI compliant repositories for a federated search. The work described is being carried out as part of the development of the Digital Library of Information Science and Technology (DLIST), an Eprints repository.
Publication Date
July, 2004
DOI
10.1045/july2004-coleman
Citation Information
Anita S. Coleman, Paul Bracke and S. Karthik. "Integration of Non-OAI Resources for Federated Searching in DLIST"
D-Lib Magazine
Vol. 10 Iss. 7/8 (2004) ISSN: 1082-9873
Available at: http://works.bepress.com/anita-coleman/35/